Advertising & Marketing
---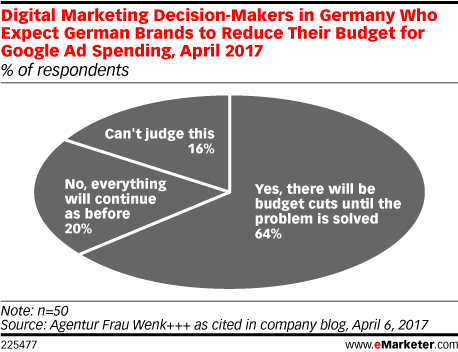 Nearly two-thirds of digital marketing decision-makers say advertisers in the country will cut allocations to Google and shift digital budgets elsewhere.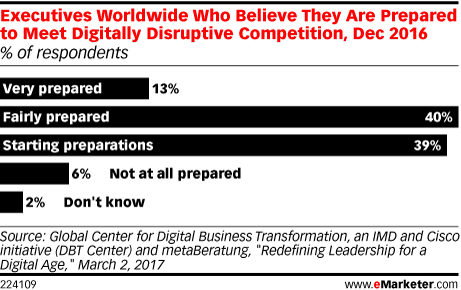 Less than half of marketing executives worldwide consider themselves "fairly prepared" to meet digitally disruptive competition, according to data from IMD and Cisco.
Peter McGuinness, CMO at Greek yogurt brand Chobani, spoke with eMarketer about how the company's agile product and marketing teams give it a competitive advantage.
In the latest edition of eMarketer's "Behind the Numbers" podcast, we look at three powerful forces transforming virtually every aspect of the global media and marketing ecosystem: mobility, automation and ad avoidance.
Duane Schulz, vice president of digital and demand marketing and technology at Xerox, tells eMarketer about how the company has wrangled its marketing technology stack and how that has led to organizational changes.
Feeling fuzzy on the latest progress on the cross-device targeting front or hoping to get a pulse on what's in store for 2017? This webinar can help. Join eMarketer's Lauren Fisher for her annual look at the changing capabilities and technologies in cross-screen targeting, including:
Automating workflows and obtaining sufficient budgets are important goals for marketers, but they're not as much of a priority as lead generation or driving web traffic.
Generating new business has always been a difficult job for ad agencies, but more agencies are finding it harder this year to find and secure new assignments.
With the endless possibilities that the digital landscape gives marketers by way of agility and innovation, it's no wonder that perhaps more traditional companies are looking to safeguard themselves more and more. According to March 2016 research, almost all CMOs worldwide believe they're prioritizing their defense against new competitors, particularly those that are nontraditional entrants to their industry.
Acquiring new customers is a major priority for most marketers. But in order to maximize the effectiveness of dollars allocated to acquisition efforts, marketers must place an emphasis on data, audience centricity and the lifetime value of customers.