Advertising & Marketing
---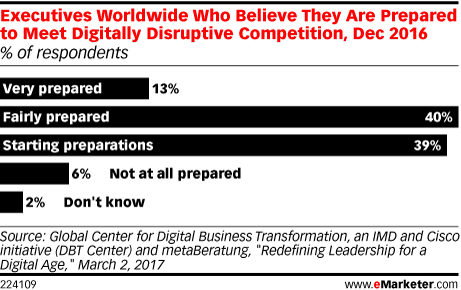 Less than half of marketing executives worldwide consider themselves "fairly prepared" to meet digitally disruptive competition, according to data from IMD and Cisco.

Wade Allen, vice president of brand and digital innovation at restaurant chain Chili's, spoke with eMarketer about the technological challenges of personalization.
From Brexit to brand safety, UK marketers feel beset by largely external challenges.
Many retail marketers turn up their noses at new technology and plan to put more money into an old standby in 2017.
Over 80% of advertising and marketing agencies in Germany enjoyed positive relations with their clients in the past few years, and a similar share of clients felt the same. But the need for speed, cost efficiency and specialist know-how are straining these bonds.
More marketers plan to increase their investment in data-driven marketing, according to recent surveys. Executives say tactics like cross-channel and cross-device marketing are helping to boost revenues.
Quim Gil, head brand planner at Hispanics-focused agency Richards/Lerma, spoke with eMarketer about how ad agencies are approaching the US Hispanic market.
Is your business ready for 2017? How much do you really know about the key challenges that you'll face next year? Join us for a special webinar where we discuss the key trends we expect to happen—and not happen—in the coming year. This is our seventh annual "Key Trends" webinar, and it promises to be a free-wheeling, data-packed conversation that will cover: millennials and ad blocking; AI; mobile app usage; live video; the emergence of Gen Z and much more!
The rise of digital has also meant, for most marketers, the rise of data. And according to research from August 2016, data is changing the way brands deal with agencies. Just about all client-side marketers rely on data at least sometimes to manage these relationships.
Justin Reckamp, social media and brand development manager at State Farm, talked about how the insurance company uses social media to showcase diversity in its messaging.