Advertising & Marketing
---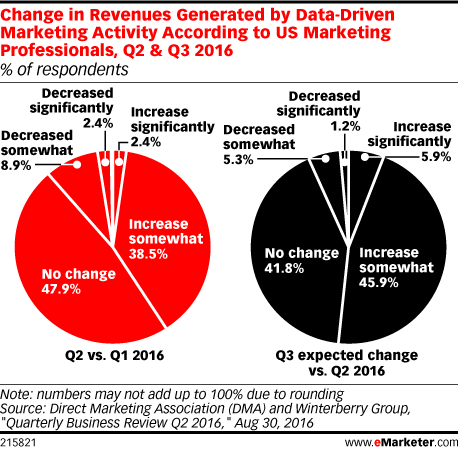 Marketers put more dollars behind their data-driven marketing efforts, and saw revenue gains from those efforts, between Q1 and Q2 2016 in the US. According to August research, this upward track is expected to continue into Q3.

God-is Rivera, associate director of social media at digital marketing and advertising agency VML, discusses diversity in messaging and how brands can use social media in that effort.
Roughly half of US ad agency professionals said their clients are most interested in advertising on spot TV or spot cable—more than any other medium including digital, mobile, streaming video and radio, April 2016 research revealed.
Matt Preschern, executive vice president and CMO of global technology outsourcing firm HCL Technologies, talks about his company's marketing transformation to stay competitive in an increasingly digital world.
Andy Kauffman, vice president of digital at global hotel chain Marriott International, talks about his company's approach to digital transformation for the hotel's people, processes and technology.
The growing complexity of marketing technology is forcing many client-side marketers to rely on agency partners like never before. Research shows that many clients are retaining more agency partners than in years past, relying on them to fill gaps related to a variety of strategic initiatives well beyond their traditional areas of expertise.
Over 80% of marketers in Canada said they conducted social media engagement activities in February 2016, making it the leading digital marketing activity. And they're convinced content marketing will be one of the most important over the course of this year.
Matt Trotta, vice president of agency relationships at BuzzFeed, explains how brand-publisher interactions are now more symbiotic.
Senior-level digital agency professionals plan to make several business changes in 2016. According to a survey from Kentico Software and Millward Brown, many are looking to invest more money in software and hardware.
Mohan Ramaswamy, strategy partner at digital product design and development agency Work & Co, talks about how consumer expectations of digital experiences are changing and how his firm helps brands evolve to meet and exceed those expectations.