Advertising & Marketing
---

God-is Rivera, associate director of social media at digital marketing and advertising agency VML, discusses diversity in messaging and how brands can use social media in that effort.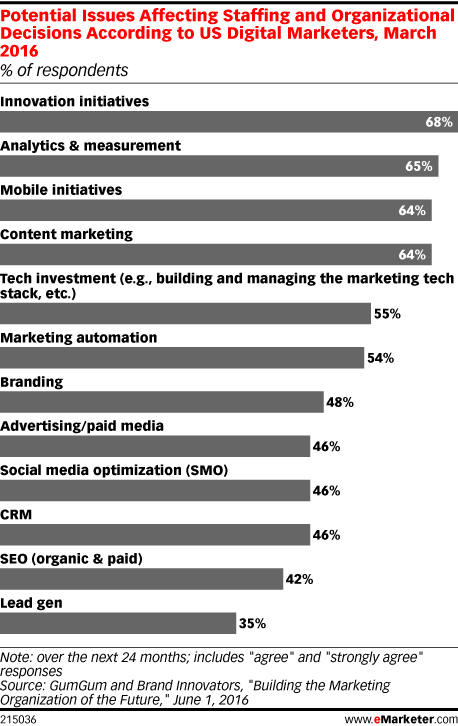 In a constantly evolving digital landscape, it's no wonder that US marketers want their department personnel to remain both informed and nimble. According to March research, almost seven in 10 feel the drive to innovate will likely impact their staffing decisions over the next two years.
It's not easy to be a nimble marketer in today's ever-expanding, increasingly real-time digital world. But a growing number of brands and agencies are able to make decisions about customers, products and markets more quickly and thoughtfully by revising and updating their approaches to processes, technology, people and partnerships.
GrubHub CMO Barbara Martin Coppola spoke with eMarketer about how the brand balances data with agility.
Erica Seidel, founder and principal of talent recruiting agency The Connective Good, talks about trends and pitfalls in hiring the right people to excel in today's complex marketing world.
Dhanusha Sivajee, executive vice president of marketing at XO Group, talks about alignment and collaboration between the lifestage media company's marketing and product teams, as well as the skills needed to work in a fast-paced environment.
Casper's Terri Rockovich, vice president of acquisition, and Lindsay Kaplan, vice president of communications, talk about how the marketing team hires—and retains—the right talent for its fast-paced organization.
Richard Burrage, managing partner of Vietnam-based market research firm Cimigo, talks about consumer behavior in the country and how marketers can reach young consumers.
John Caruso, partner and creative director at digital experience agency MCD Partners, details how customer experience has become a way for brands to differentiate themselves by meeting and exceeding always-on omnichannel expectations.
A typical business-to-business (B2B) brand now has a staggering amount of data in its arsenal, and the marketing department's goal is to use that data to deliver more effective results than ever before. Enter predictive marketing, which uses machine learning to deliver more accurate insights across the funnel to encourage sales from existing and new customers.