Advertising & Marketing
---
Is your business ready for 2017? How much do you really know about the key challenges that you'll face next year? Join us for a special webinar where we discuss the key trends we expect to happen—and not happen—in the coming year. This is our seventh annual "Key Trends" webinar, and it promises to be a free-wheeling, data-packed conversation that will cover: millennials and ad blocking; AI; mobile app usage; live video; the emergence of Gen Z and much more!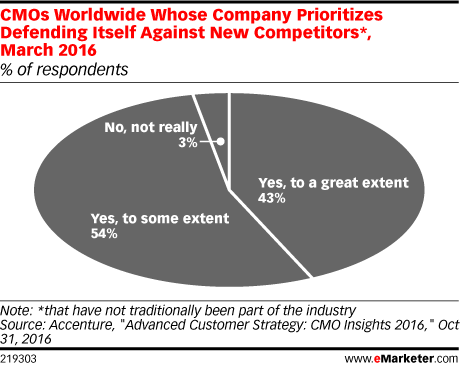 With the endless possibilities that the digital landscape gives marketers by way of agility and innovation, it's no wonder that perhaps more traditional companies are looking to safeguard themselves more and more. According to March 2016 research, almost all CMOs worldwide believe they're prioritizing their defense against new competitors, particularly those that are nontraditional entrants to their industry.
Justin Reckamp, social media and brand development manager at State Farm, talked about how the insurance company uses social media to showcase diversity in its messaging.
God-is Rivera, associate director of social media at digital marketing and advertising agency VML, discusses diversity in messaging and how brands can use social media in that effort.
The marketing technology space is buzzing with activity, but it's a transitional time for many brands. eMarketer asked a number of marketing technology experts at some leading brands and agencies about the biggest changes and challenges in the space.
It's not easy to be a nimble marketer in today's ever-expanding, increasingly real-time digital world. But a growing number of brands and agencies are able to make decisions about customers, products and markets more quickly and thoughtfully by revising and updating their approaches to processes, technology, people and partnerships.
GrubHub CMO Barbara Martin Coppola spoke with eMarketer about how the brand balances data with agility.
Erica Seidel, founder and principal of talent recruiting agency The Connective Good, talks about trends and pitfalls in hiring the right people to excel in today's complex marketing world.
Dhanusha Sivajee, executive vice president of marketing at XO Group, talks about alignment and collaboration between the lifestage media company's marketing and product teams, as well as the skills needed to work in a fast-paced environment.
Casper's Terri Rockovich, vice president of acquisition, and Lindsay Kaplan, vice president of communications, talk about how the marketing team hires—and retains—the right talent for its fast-paced organization.