Advertising & Marketing
---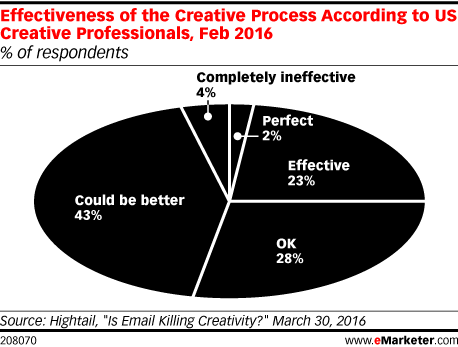 Nearly half of US creative professionals say the creative process could be more effective, according to February 2016 research. Just 2% of respondents said it was already perfect.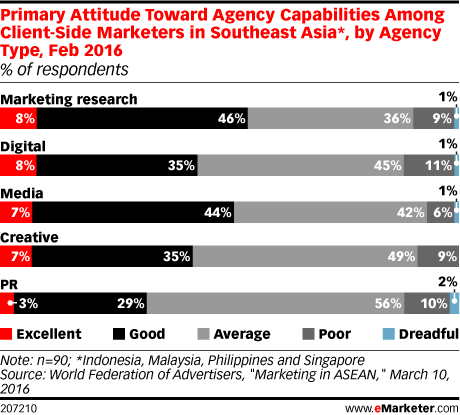 Client-side marketers in Southeast Asia are dissatisfied with their current marketing efforts. A perceived lack of agency capabilities in the areas of PR, creative and digital, as well as gaps in media audience measurement, are reported as key shortcomings.
Marketing technology is a key area of focus for marketing managers in 2016, according to research. As managers think about where to spend their budgets on such technology tools this year, business intelligence reporting, marketing automation and customer interaction products are likely to see more investment.
Scott Brinker, co-founder and chief technology officer of martech firm ion interactive and editor of the Chief Marketing Technologist blog, provides an update on the marketing technology landscape and what its evolution means for marketers in 2016.
The use of data management platforms (DMPs) among industry professionals continues to grow. Yet, those same marketers are skeptical of DMPs' ability to deliver on expectations and business goals, according to research.
Nearly 90% of advertisers say it's important to keep control of their marketing data—and many fear automation undermines that.
Mobile is the most likely digital channel to see an increase in budget among marketers in Canada, according to research from December 2015. The same channel will also enjoy the largest planned increases in spending.
Nearly three in 10 (29%) advertisers in Finland plan to increase ad and marketing spending in 2016, according to a January 2016 survey. Digital is especially likely to enjoy increases in spending.
Marketers have been teaming up with influencers for content creation and promotion, and these types of marketing campaigns have generated impressive results. According to December 2015 research, the beauty and fashion industry has also allocated a percentage of their budget to influencer marketing.
Mobile accounted for more than half of digital ad spending in 2015, and marketers continue to see increased value in mobile advertising. While there are benefits, there are challenges too, according to Q3 2015 research.