Advertising & Marketing
---

Richard Burrage, managing partner of Vietnam-based market research firm Cimigo, talks about consumer behavior in the country and how marketers can reach young consumers.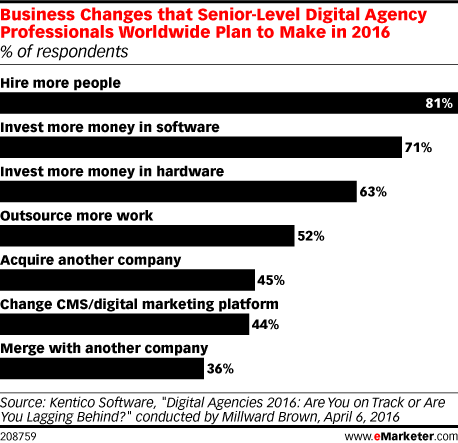 Senior-level digital agency professionals plan to make several business changes in 2016. According to a survey from Kentico Software and Millward Brown, many are looking to invest more money in software and hardware.
A typical business-to-business (B2B) brand now has a staggering amount of data in its arsenal, and the marketing department's goal is to use that data to deliver more effective results than ever before. Enter predictive marketing, which uses machine learning to deliver more accurate insights across the funnel to encourage sales from existing and new customers.
Client-side marketers in Southeast Asia are dissatisfied with their current marketing efforts. A perceived lack of agency capabilities in the areas of PR, creative and digital, as well as gaps in media audience measurement, are reported as key shortcomings.
Digital ad spending will surpass TV next year, eMarketer estimates. And according to February 2016 research, US ad agency professionals say their clients are interested in digital advertising more than last year.
Research suggests that marketers in India already see mobile as a key part of their efforts, even if spending is still relatively low.
eMarketer checks in with Dun & Bradstreet CMO Rishi Dave to see how the role of marketing technology evolved at the business information services company throughout 2015 and how it's influencing priorities for 2016.
Andrew Daley, vice president of marketing at Zipcar, spoke with eMarketer about how the rental car company plans to manage and operate its marketing ecosystem in 2016.
Best practices can help businesses run more efficiently, but sometimes identifying and integrating them internally is challenging, according to December 2015 research.
Understanding consumers and delivering an engaging experience is important to marketers, especially those that want to boost brand perception. According to October 2015 research, improving the customer experience is what primarily keeps CMOs and marketing leaders up at night.