Advertising & Marketing
---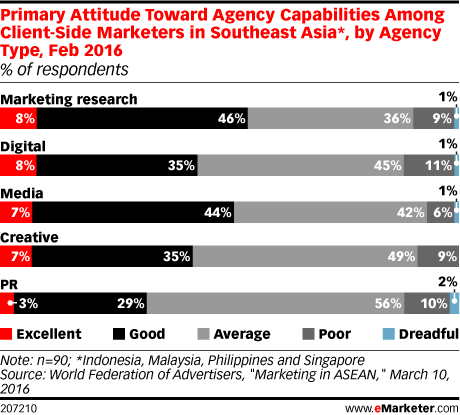 Client-side marketers in Southeast Asia are dissatisfied with their current marketing efforts. A perceived lack of agency capabilities in the areas of PR, creative and digital, as well as gaps in media audience measurement, are reported as key shortcomings.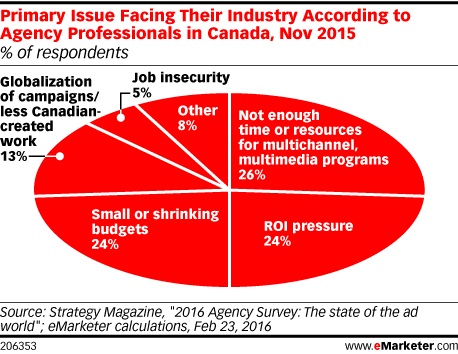 No one issue takes precedence in Canada when it comes to challenges facing the advertising industry, according to November 2015 research. Agency professionals are split on their primary struggle.
Research suggests that marketers in India already see mobile as a key part of their efforts, even if spending is still relatively low.
eMarketer checks in with Dun & Bradstreet CMO Rishi Dave to see how the role of marketing technology evolved at the business information services company throughout 2015 and how it's influencing priorities for 2016.
Andrew Daley, vice president of marketing at Zipcar, spoke with eMarketer about how the rental car company plans to manage and operate its marketing ecosystem in 2016.
Best practices can help businesses run more efficiently, but sometimes identifying and integrating them internally is challenging, according to December 2015 research.
Understanding consumers and delivering an engaging experience is important to marketers, especially those that want to boost brand perception. According to October 2015 research, improving the customer experience is what primarily keeps CMOs and marketing leaders up at night.
Marketers are constantly looking to better understand consumers and ultimately deliver an engaging experience. According to Q4 2015 research, many executives are using revenue metrics to measure the success of customer efforts.
Financial institutions are facing many challenges this year, ranging from implementing EMV payments to making strategic hiring decisions. According to research, driving growth and profitability are among their biggest hurdles.
Retailers are increasingly prioritizing their digital efforts this year, and according to 2016 research, unified commerce is one of their primary focuses.