Financial Services
---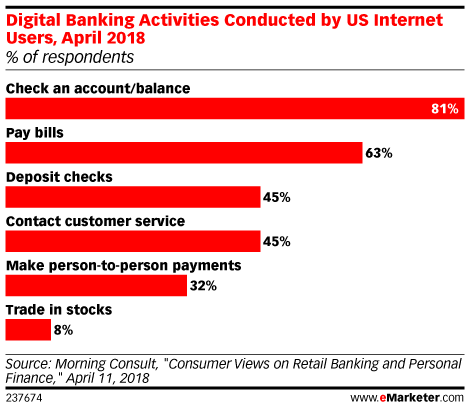 This year, 115.6 million mobile phone users in the US will bank on mobile at least once per month, according to eMarketer estimates.
This year, there will be 82.5 million mobile phone P2P payment users in the US, according to eMarketer estimates.
Though many digital banking users in the US still prefer to talk to a human for their financial needs, a recent study from Humley found that a good number are also turning to chatbots.
Much of the growth in UK ad spend in digital channels through 2019 is expected to come from mobile.
In the latest episode of eMarketer's "Behind the Numbers" podcast, analyst Bill Fisher digs into digital finance in the UK. How do UK consumers mix digital into payments, spending and saving? And how do those habits compare with other markets?
New research from VocaLink finds that more than half of UK smartphone users used a banking app in 2017, while 39% used a contactless card or mobile payment service to make a small daily purchase.
Tightening regulations and increasing public unease over questionable business practices are not expected to lessen the number of digital credit service users in the country in the coming years.
The adoption of mobile banking apps is moving steadily ahead, according to new data from customer experience management firm Market Force Information. But just because an app has been downloaded doesn't mean it's used by most people with any regularity.
Olivier Thirion de Briel, global solutions marketing director at secure identity solutions provider HID Global, discusses the impact that the Second Payment Services Directive could have on digital banking in the UK.
Digital banking in South Korea has dipped and then grown again over the past year, indicating that users in the country are still on the fence about performing financial tasks online.