Financial Services
---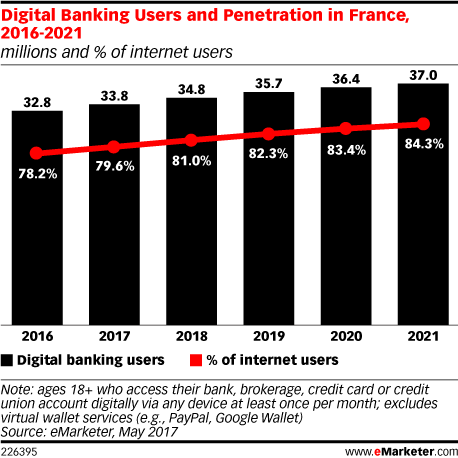 The majority of France's internet users will bank online in 2017, according to eMarketer's first-ever forecast of digital banking in the country. But relatively few will do so using a mobile phone compared with the likes of the US.

Intact Insurance's Robin Monniere, vice president of brand development and customer experience, and Sylvain Marcoux, director of product marketing for the Quebec region, discuss the most effective channels for targeting French Canadian audiences.
Retail banks in the UK plan to close a total of nearly 500 branches this year as a result of falling demand for physical banking services in the face of online alternatives. Nevertheless, UK consumers aren't ready to bank digital-only quite yet.
Women under 30 are behind older women in money management, but they are more likely to use digital tools to help with financial tasks.
Digital payments service FreeCharge launched a digital mutual fund service in a bid to appeal to users who may not have had access to banking and investment services.
Two new digital banks are in the works, one backed by some of South Korea's biggest conglomerates, the other by Kakao, the country's dominant messaging app.
Mobile access to bank accounts is up sharply, too. Nearly 30% of France's web users check an account at least monthly with a mobile device; most prefer using their bank''s mobile app rather than a mobile website, though.
Internet users in France are doing less in physical branches, and visiting them less often. A study found more than three-quarters of internet users in France with bank accounts access those accounts via their bank's website, and more than one-quarter do so via mobile app.
Martin Kedbäck, channel manager at Swedbank, spoke to eMarketer's Maria Minsker about how the bank's virtual assistant, Nina, has become a solid self-service channel that leaves agents more time to close deals.
Hubert JP Jolly, global head of channel and enterprise services for Citi's Treasury and Trade Solutions business, speaks to eMarketer about how Citi is making the B2B user experience easier and more mobile-friendly.