Financial Services
---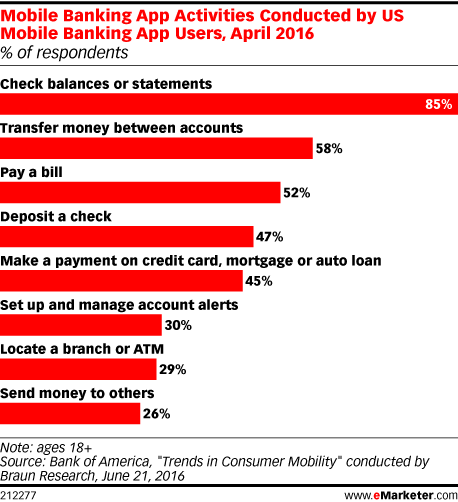 A majority of users access their mobile banking app to check balances and statements, April 2016 research revealed. Paying bills is another popular activity that they conduct.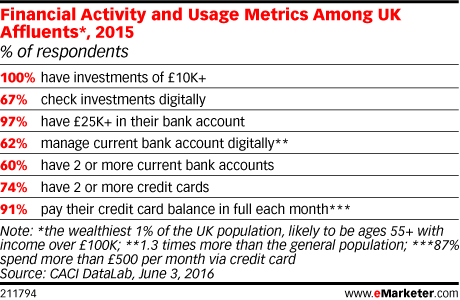 The wealthiest 1% of the UK population are more likely than the general population to bank digitally, with almost two-thirds managing their current account online. They even give that most-digital of demographic groups—millennials—a run for their money.
Nearly 50% of subscribers conducted transfers or used inquiry services in 2015, a figure that inched up from the prior year. Digital banking is especially popular in the country among younger users.
In France, digital banking users ages 35 and younger are far more likely to access their banking services via a smartphone than a tablet. Older generations use both devices for their banking needs, not necessarily preferring one over the other.
More than two-thirds of internet users in Canada use online banking at least once a week, according to January 2016 research. Only 16% say they go into a branch.
Though the internet of things (IoT) is still in its early stages, it has significant potential for the financial services sector. By building on early success with mobile technology, banks, insurers, payments companies and other financial firms are experimenting with ways to streamline their operations, reduce risk and create more valuable experiences for their customers.
Nearly three-quarters of mobile banking app users use a mobile payment app to pay a bill, according to February 2016 research. They also use it to send money to a friend.
Mark Goines, the CMO of Personal Capital, talks about how the digital wealth management tech company uses marketing technology to track and optimize cross-channel acquisition and conversion, as well as how it is finding scale beyond digital.
Internet users in Canada still prefer conducting finance-related digital activities on desktops and laptops, according to RateHub. Eighty-two percent of users on the RateHub network use them, far ahead of the share using mobile devices.
Digital banking is becoming ever more common in the UK, at the expense of physical banking in-branch. Among millennials, in particular, banking online is the default for their daily money management.