Healthcare & Pharma
---

Amy Landucci, head of digital medicine at Novartis, talks about the new and improved role of technology in the pharmaceutical industry.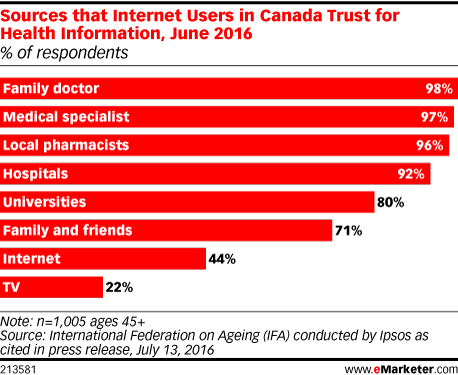 Family doctors, medical specialists, local pharmacists and hospitals were the most commonly trusted sources for health information in Canada among internet users ages 45 and older surveyed in June. On the opposite end of the spectrum were the internet and TV.
Healthcare and pharma marketers in the US invested $1.67 billion in paid digital media in 2015. This year, those marketers will increase their spending 15.4% to reach $1.93 billion.
Most US internet users are willing to share their personal health information if it can help improve their personal healthcare. According to February 2016 research, almost half of respondents said they would be willing to do so, but only if it was anonymous.
Health and fitness have provided a key opening for wearables-makers, as internet users tend to be attracted to such devices to keep tabs on their activity levels. In the UK, mobile users are open to many applications that could prove relevant to wearables.