Politics & Campaigns
---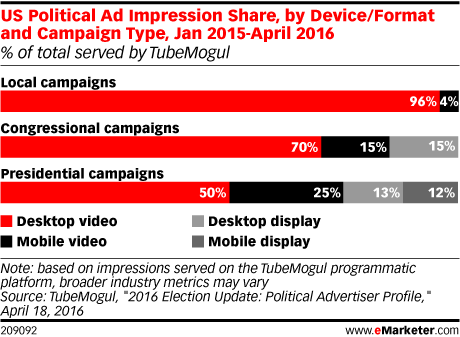 US internet users say they learn more about politics from TV than anywhere else, and that TV ads are most likely to influence their voting behavior. But digital video is a growing source of political info</a> as well, and research suggests desktop-based video ads are the leading digital format for political campaigns from the local to the national level.
Many are dubbing 2016 the "Snapchat Election", not only because campaigns are using the social app to reach the coveted millennial demographic, but due to the ephemeral nature of today's media environment where content is consumed in streams, feeds and snaps. Topics in this webinar include: How the use of different channels like Snapchat are being matched with specific campaign goals; How much US political campaigns will spend on digital advertising in the 2016 election cycle; Differences between approaches at the local level versus the national level; How voters research candidates and their attitudes toward political advertising
While TV still dominates political ads, candidates are shifting more money to digital. A panel of political advertising and data experts spoke to eMarketer about cross-channel approaches to political campaigns.
Data from a February 2016 YuMe report reveals that 69% of US internet users find TV news to be the most effective political marketing channel.
Facebook is the place to reach millennials of all political persuasions, according to November 2015 research. Other sites are more likely to skew Democratic, and even though most voters don't rely on social for political info, it's a key place for campaigns to reach them.