Politics & Campaigns
---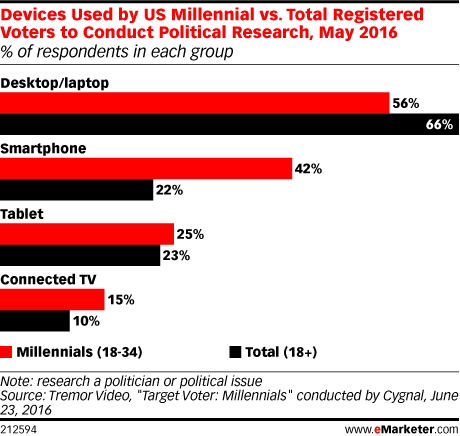 Most registered voters leverage desktop or laptop PCs when researching a politician or political issue, May 2016 research found. However, millennials are more likely than their older counterparts to use their tablets, connected TVs—and especially their smartphones—to conduct political research.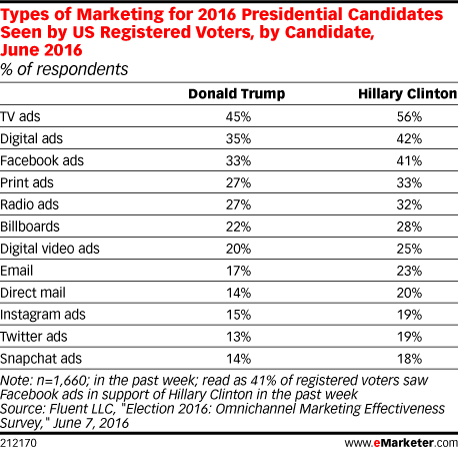 More US registered voters said they saw marketing messages in support of likely Democratic presidential nominee Hillary Clinton in the past week than they did for presumptive Republican presidential nominee Donald Trump—across media.
Many are dubbing 2016 the "Snapchat Election", not only because campaigns are using the social app to reach the coveted millennial demographic, but due to the ephemeral nature of today's media environment where content is consumed in streams, feeds and snaps. Topics in this webinar include: How the use of different channels like Snapchat are being matched with specific campaign goals; How much US political campaigns will spend on digital advertising in the 2016 election cycle; Differences between approaches at the local level versus the national level; How voters research candidates and their attitudes toward political advertising
While more than half of US likely voters who use digital video to learn about political candidates are millennials, some older generations are also turning to the channel to better understand political candidates and issues, according to January 2016 research.
Television is the most effective political ad format influencing voting behavior across all generations, according to a January 2016 survey. Print ads also influence behavior.
Extreme political views and personal attacks have produced a climate that worries some users in Germany—and could deter advertisers