Retail
---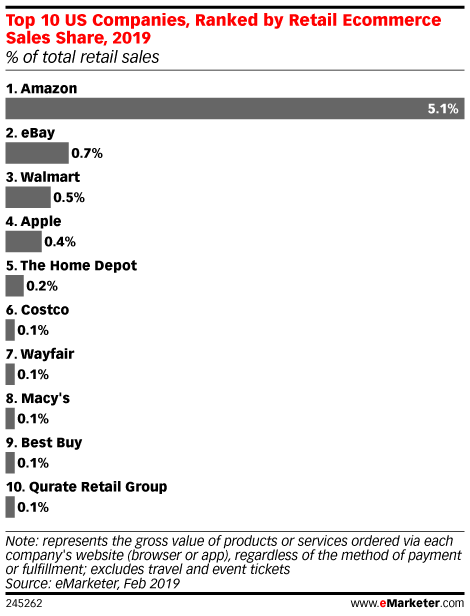 In the latest episode of "Behind the Numbers," we're looking into Walmart's digital sales and how the brick-and-mortar giant has used its vast physical footprint to win a big chunk of the ecommerce market.
After a great year for retail—rising 5.3% in 2018—sales will slow but also expand 3.2% in 2019.
In today's edition of "Behind the Numbers," we're discussing digital grocery shopping. A new report shows increasing consumer demand and strong growth ahead, but the sector has been slower to catch on than many have predicted.
It starts with fully stocked shelves on every channel, and here's what else will keep customers coming back.
Apparel is one of the most popular retail ecommerce product categories, and online sales are growing faster than offline.
While recent data reveals big differences in attitudes toward a range of shopping-related technologies, there are some noteworthy exceptions.
Retail is in the midst of a radical transformation. In this eMarketer analyst report, we look at what to expect for the US retail and ecommerce markets in 2019, and share key trends that will have an impact on shopper behavior and retailer performance.
Walmart is doubling down on its digital grocery efforts with a splashy new campaign promoting Walmart Grocery Pickup, its click-and-collect service.
Declining mall foot traffic and competition from direct-to-consumer brands and private-label offerings have hurt mid-tier merchants like Toys "R" Us and Sears. But dollar stores are flourishing.
eMarketer's "Do You Have a Second?" is a mini-podcast that offers a quick hit of the latest digital data. Today, we're talking about online returns for the holiday season, apparel discounting over the Thanksgiving shopping period and consumers' resolutions for the New Year.