Retail
---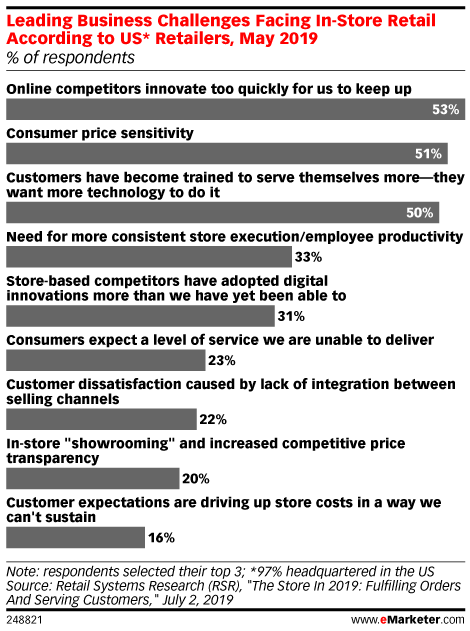 eMarketer principal analyst Andrew Lipsman discusses what made the Apple Store so successful, which retailers are nailing the in-store experience, McDonald's voice-activated drive-thrus, Walmart's ecommerce initiatives and more.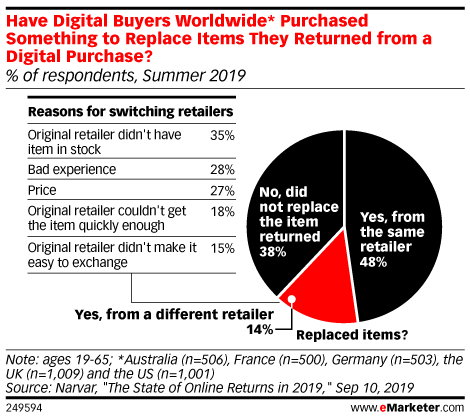 For many consumers, online shopping isn't as frictionless as some retailers may think, particularly when it comes to return policies.
eMarketer vice president of forecasting Monica Peart discusses our advertising estimates for Alibaba and details on the Chinese ecommerce giant's new retail initiative.
More brands are using social platforms like Pinterest and Instagram to not only discover new products, but to ultimately buy them. And that seems to be paying off, according to a July 2019 study from rating and review marketing company Yotpo.
eMarketer recently spoke with Vadim Grinberg, vice president of consumer growth and insight at Dagne Dover, to discuss what the retailer has learned since opening up its pop-up location and how it feels about retail tech and handles cart abandonment.
Driven by gains in education and greater access to financial resources, the estimated buying power of US Hispanics is poised for growth, but Hispanic consumers and their shopping habits are often misunderstood or overlooked by marketers.
Cynthia Rowley president and CEO Allie Egan sits down with eMarketer executive editor Rimma Kats to discuss a variety of topics, including mcommerce, a text message channel and the need to maintain an active conversation with retail customers.
eMarketer principal retail analyst Andrew Lipsman explains why second-hand shopping is bouncing back, and gives the most important takeaways from Walmart, Macy's and J.C. Penney's Q2 financials. He also explains how much ratings and reviews affect a company's revenue, which US stores are closing down the fastest and who people are most likely to trust for shopping recommendations.
Direct-to-consumer (D2C) brands continue to disrupt the retail space. The companies use an array of tactics to attract business, from offering low prices to targeting shoppers who care about ethical consumption to simply providing a more convenient experience.
Retailers can't always rely on customer feedback to measure the success of their ecommerce platforms. Small technical issues, which often go unnoticed by the business itself, can significantly hinder the customer experience.