Retail
---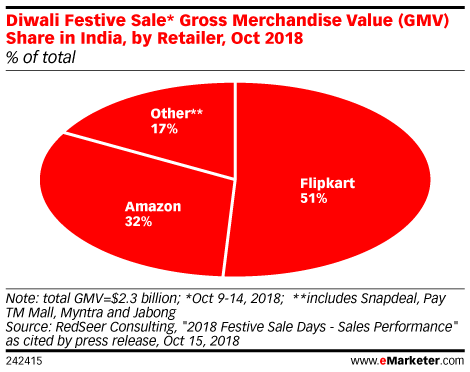 Amazon already has a major stake in India's fast-growing ecommerce market. Here's how we know the country is one of its big targets for 2019.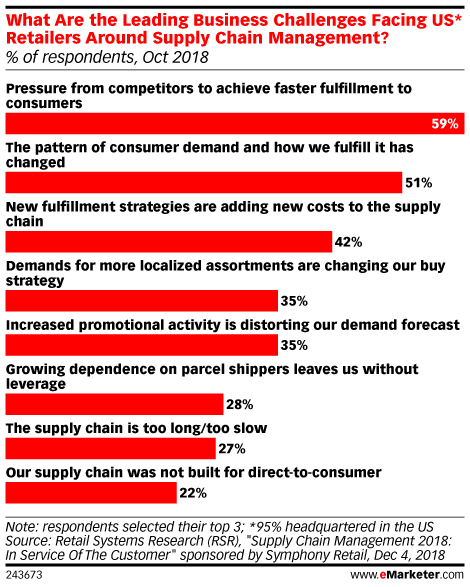 Efforts to increase supply chain efficiency are nothing new, but as retail ecommerce sales continue to grow, retailers need to be more flexible.
In the latest episode of "Behind the Numbers," eMarketer's Man-Chung Cheung and Monica Peart discuss commerce in China, where technology companies are remaking the brick-and-mortar experience, even as they continue to innovate in ecommerce.
With its increased investment in Instagram Stories, Benefit plans to focus on both organic and paid content in 2019. And rising usage in swipe-up behavior—when a user swipes up on stories content and is taken to a landing page on the brand's website—is opening the door to new opportunities.
In the latest episode of "Behind the Numbers," eMarketer Bill Fisher discusses the evolving UK retail market and the growing impact of mobile shopping.
Store closures are the hallmark of the so-called retail apocalypse, but the demise of brick-and-mortar locations might be more apparent to industry watchers. The average consumer doesn't always pay attention—unless a particular store meant something to them.
In this special webinar panel of eMarketer analysts you'll learn the market forces changing the ways consumers shop for consumer packaged goods, and the drivers affecting how CPG companies sell to consumers.
Amazon is already one of the top digital retailers in Canada. But that may not be the case with digital grocery, a highly competitive space where established players are vying to fill up virtual shopping carts. eMarketer spoke with Michael LeBlanc, founder and principal of M.E. LeBlanc & Company, about Amazon's role in the country's overall ecommerce landscape and its digital grocery sector.
Amazon Go has received a lot of attention for a store with only six locations in three cities. It's not hard to see why, since the "walk out without paying" concept is novel, and eliminating friction is the holy grail of omnichannel retailing.
Even though food and beverage has traditionally been a product category with low digital penetration in the US—we peg the category at 2.8% of all retail ecommerce sales for 2018—online sales are steadily picking up steam.