Retail
---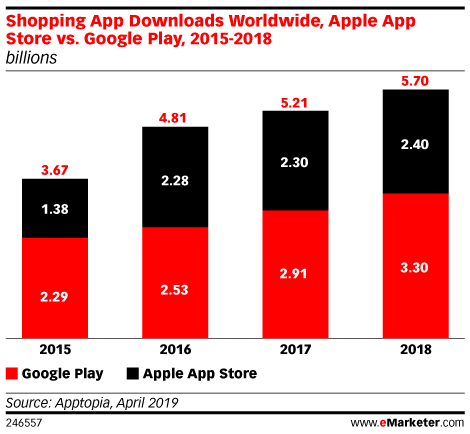 Worldwide, shopping app downloads grew to 5.70 billion in 2018, up 9.3% over 2017, according to exclusive data from app analytics platform Apptopia. Google Play saw a 13.3% year-over-year increase in downloads to 3.30 billion, while Apple iOS saw gains of 4.2% to 2.40 billion.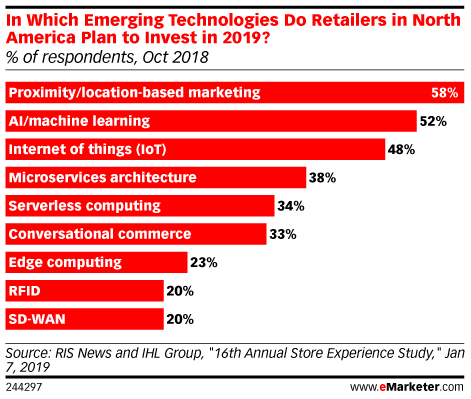 For retailers considering an investment in emerging technologies, location-based marketing stands out as a key area of interest.
In 2018, total worldwide app revenues grew 63% year over year, according to app commerce company Poq. Additionally, time spent in shopping apps grew 45% from two years prior, per data from App Annie.
Two-thirds of US shoppers typically start their search for new products on Amazon, according to a March 2019 Feedvisor study that polled respondents who have purchased from the marketplace in the past two years. By contrast, two in 10 respondents use a search engine like Google, and just 3% look to another marketplace.
More than four in five internet users worldwide said a quick and easy checkout was the most valued aspect of the shopping experience, making it the highest ranked response to a January 2019 survey from iVend Retail.
In the latest episode of "Behind the Numbers," eMarketer principal analyst Andrew Lipsman discusses how direct-to-consumer brands find success in creating personal relationships with their customers.
The online grocery market is starting to reach an inflection point, but in order to achieve success, retailers must overcome key logistical hurdles.
Online grocery is a massive and fast-growing market. We estimate that grocery ecommerce in the US—specifically online food and beverage sales—will grow 18.2% to $19.89 billion in 2019 and will rank as the fastest-growing product category online.
Mundane concerns like getting a quality product or service at a good price are still the biggest drivers of brand loyalty for US internet users.
In the latest episode of "Behind the Numbers," we sit down with Matt Alexander, co-founder of Neighborhood Goods, which mixes department store concepts and digital native brands. What do D2C brands want from a retail presence? And does the department store format have a future?