Retail
---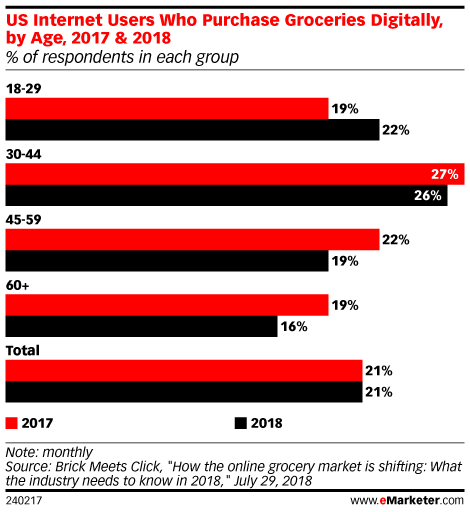 Even though supermarkets have upped their digital commerce offerings over the past few years and online grocery shopping has been on the rise, a good number of US consumers just aren't that interested in having groceries delivered.
In the latest episode of eMarketer's "Behind the Numbers" podcast, analyst Andrew Lipsman discusses the failure of Sears, and what its long decline says about the retail sector as a whole.
Like customer experience and digital transformation, the need for innovation has become a priority across industries. Retail is no exception. A new PYMNTS and AEVI survey examined what is motivating retailers to innovate payments. The biggest driver to innovate was competition (84.6%). No one wants to get left behind, and many just want to be on a level playing field.
Social media is hardly synonymous with shopping, but that hasn't stopped social platforms from positioning themselves as pseudo-retailers.
Emerging retail tech straddles the line between utilitarian and useless. Improving the customer experience is usually the end goal but when it's implemented just for the sake of showing off, consumers don't always find it useful. According to a June 2018 JDA Software survey, consumers were receptive to the idea of retail tech.
Ryan Fagan, director of sales and operations planning at Lowe's, spoke about how the home-improvement brand overhauled the way it verifies which customers are eligible for discounts.
Omnichannel retailing means meeting shoppers' expectations in their channel of choice, digital or physical. That is forcing many retailers to break out of their routines and experiment with new models. And it's not just brick-and-mortar sellers that are being pressed to change.
Amazon recently unveiled its first Amazon Go convenience store outside of its home market of Seattle, putting down brick and mortar roots in Chicago. eMarketer's principal retail analyst, Andrew Lipsman, took a spin through the aisles of the new store and reports back on the experience in the latest episode of "Behind the Numbers."
What once sounded fantastical—stores where shoppers could walk out with purchases without waiting in line—is becoming a reality for more than a select few.
Tom Doctoroff, chief cultural insights officer at Prophet, spoke about the drivers of luxury consumption in China.