Retail
---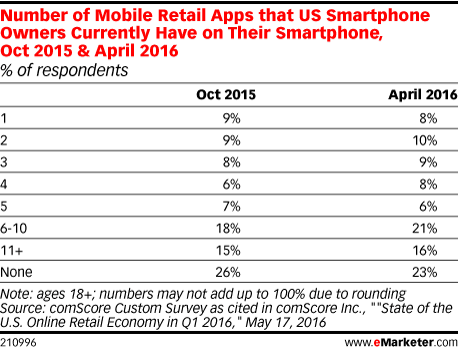 Consumers are steadily downloading more retail apps to their device compared to a year prior, research found. Indeed, nearly a quarter of respondents said they have between six and 10 retail apps on their smartphone as of April 2016, up 3 percentage points from October 2015.

David Rush, CEO and co-founder of real-time social media marketing platform Earshot, discusses how shopper marketers can effectively communicate with and convert the multichannel shopper.
Morgan McAlenney, executive vice president of Digitail at shopper marketing agency The Integer Group, talks about what makes shoppers change their habits and what that means for brands.
Nearly a third of US grocery buyers said they would shop for more groceries digitally if the prices were better than they were in-store. But the same April 2016 research also found that almost a quarter of respondents said they would never shop online for groceries digitally.
Retail marketers in the US will invest $15.09 billion in paid digital media advertising in 2016, a 14.9% rise over 2015. The retail industry will remain by far the largest digital ad spender among US industry sectors tracked by eMarketer through at least 2020.
Department stores offer several digital services to consumers, ranging from personalized promotional offers to receiving recommendations from a personal shopper. While some find these services to be cool, others find them creepy.
As mobile usage becomes ubiquitous, the path to purchase is becoming less defined. Shoppers are always connected, well-informed and often quick to convert both digitally and in-store. The traditional shopping phases still exist, but once smartphones are introduced, behavior shifts.
Promotions in weekly circulars can drive purchases at grocery stores, according to February 2016 research. In fact, more than a third of grocery buyers shop at a store frequently because of these offers.
Walgreens is measuring the impact of customers' smartphones on in-store purchases. Kartik Subramanian, Walgreens' director of product management and mobile commerce, explains.
Jeff Campbell, co-founder and managing director of Resolution Media, talks about the ways mobile can influence consumers as they move through the path to purchase and why retailers should rethink the way they measure mobile advertising.