Retail
---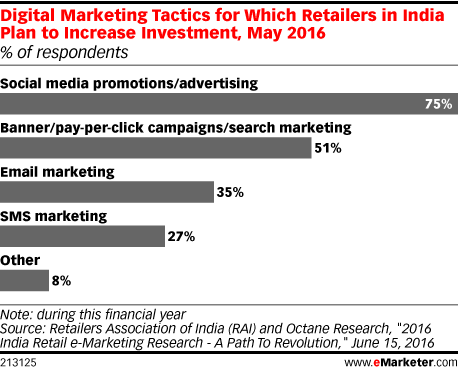 Three-quarters of retailers in India plan to increase investment in social media promotions and advertising, according to May 2016 research. Social is already a leading channel for digital marketing among all advertisers in the country.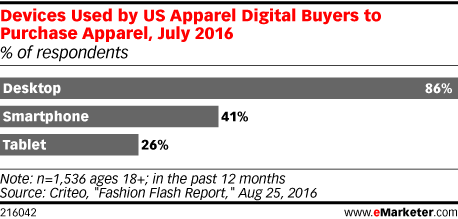 Though many US digital buyers use mobile to purchase clothing, a large majority still heavily rely on desktop, July 2016 research revealed. Among those apparel buyers who do tap mobile devices, most also use PCs for the same purpose.
Southeast Asia has all the ingredients for a promising ecommerce market—rising internet and mobile penetration, a growing middle class with greater discretionary spending, and an increasing supply of digital platforms. Still, many challenges continue to hamper ecommerce growth in the region.
Retail sales in Canada were up about 2.9% in Q2 2016 compared with the same period the prior year. The increase came after stronger 4.5% growth in Q1, and eMarketer expects total retail sales growth of less than 2% this year. The picture will be rosier on digital channels.
More than eight in 10 US retail ecommerce senior marketers said the user experience and interface of their sites need to change substantially for an update to be considered a redesign, May 2016 research revealed.
In June, the UK voted to leave the EU, a decision that—if it holds—will have massive ramifications on both Continental and UK economies. Marketers may be optimistic, especially digital marketers, having proved the resilience of the industry through the recent recession. But for retailers accustomed to revenue from the common market, the picture may be less rosy.
Bert Carder, head of sales for Ksubaka, talked about what his firm's game-based in-store interactive ad network offers brands.
For nearly a third of retailers, the average customer makes a purchase within the first 48 hours of signing up for marketing emails, June 2016 research found. And for approximately a quarter more merchants, customers first buy within a week of email signup.
Two years ago, retailers were excited about beacons—excited about gathering data based on in-store shopping behavior, driving sales through triggered messages and better understanding a customer's journey through the technology. But have retailers moved past the experimental phase, and are they still excited about the technology?
Neil Ackerman, director of global ecommerce at Mondelez International, talks about the food company's ecommerce strategy, which is geared toward reducing friction in all aspects of ecommerce.