Retail
---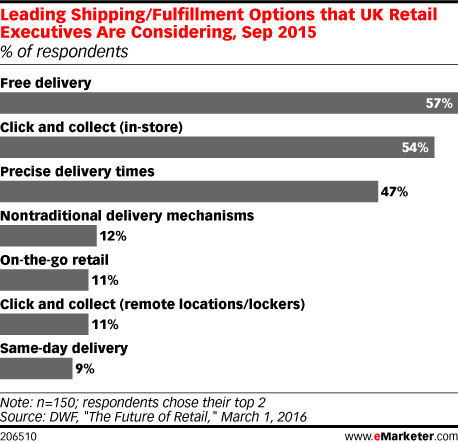 UK retailers are well advanced in the field of fulfillment and delivery. However, while they strive for an ever-expanding slew of such options, the operational cost is becoming a heavier load to bear. Upping the minimum order value is one way retailers are trying to claw back this expense.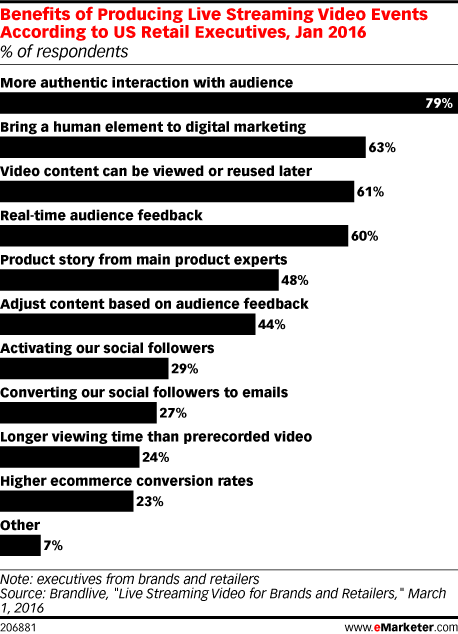 Nearly eight in 10 US retail executives say producing live streaming video events creates more authentic interaction with audiences, according to January 2016 research.
Subscriptions boxes like Birchbox, BarkBox and Dollar Shave Club have become popular in the past few years, and today it seems there is a curated box for any need. Indeed, visits to US subscription box sites have grown by almost 3,000% over the past three years.
Retailers are increasingly using in-store digital technologies to enhance the customer experience, and ultimately, drive purchases of products. According to December 2015 research, mobile and digital rewards programs are two of the most used in-store technologies.
More top 1,000 retailers have sent a shopping cart abandonment message in 2015 compared to prior years, according to research.
Nearly two-thirds of US internet users don't know if their favorite fashion retailer offers a mobile app, according to December 2015 research.
Social media and influencer marketing is helping women's athletic apparel companies not only drive engagement with new and existing customers, but also boost sales.
Custom-designed packaging can drive repeat purchases, according to January 2016 research. In fact, more than half of US digital buyers believe it makes a product more valuable.
Nearly three-quarters of retailers worldwide said they wanted their apps to offer payment security. Preventing fraud is more important for retailers than seamless ordering capabilities.
Gabe Weiss, director and strategy lead at digital agency SapientNitro, explains what a successful retail app should offer and how retailers such as Target and Sephora are offering additional features that members want.