Retail
---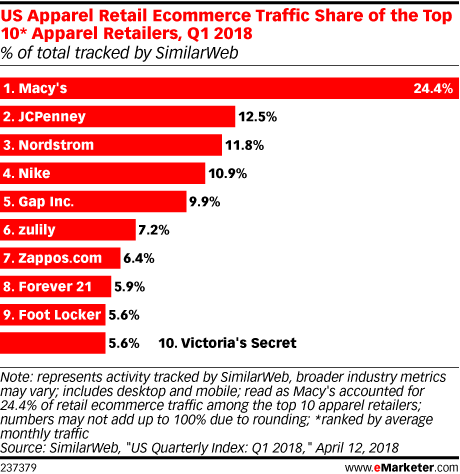 Multiple studies have shown price plays a strong role in shopping decisions. It's why dollar stores have thrived for the past decade and why many consumers choose to shop online instead of in-store. Still, for many brands, there is a risk in being perceived too strongly for value.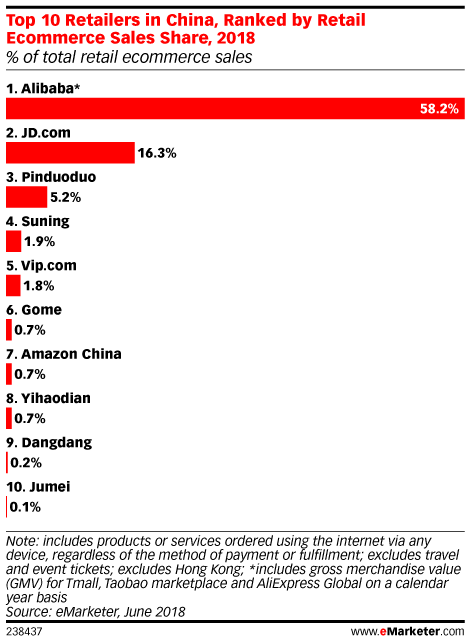 eMarketer has released its ranking of the top 10 ecommerce retailers in China. Combined, the retailers on this list will account for more than 85% of all retail ecommerce sales in the country this year. As expected, Alibaba will take the top spot, with a 58.2% share of all retail ecommerce sales. JD.com will rank second with a 16.3% share.
According to Kantar Worldpanel, US online sales of fast-moving consumer goods (excluding fresh food) jumped 29% in 2017 to $20 billion. But part of the reason for the rapid growth is that the US has a lower FMCG ecommerce penetration rate than most other geographic regions.
A May 2018 survey by Automat found that 70% of US female beauty buyers said they were overwhelmed by product choices. One solution to the overwhelmed-with-choice conundrum could be virtual beauty advisors.
Once hyped, the meal kit market—and subscription commerce, generally—appears to have settled down. According to a Market Force Information survey, only 15% of US grocery buyers have ever tried a subscription meal kit service. And there doesn't appear to be a great deal of pent-up demand, either.
Amazon and Walmart have been battling for supremacy in the growing online grocery market, but traditional supermarket chain Kroger is growing too. According to Kroger's fiscal Q1 2018 earnings report, the company's digital sales grew 66% over the prior quarter. Credit was given to ClickList, its buy online, curbside pickup program that's available at Kroger and regional subsidiaries like Dillons, Fred Meyer and Harris Teeter.
As in-store tech becomes widespread, some glitches are bound to occur. But how many and how often?
The US retail industry will continue to dominate the digital ad business this year. Retailers will spend $23.50 billion on digital ads, up 18.7% over last year, representing nearly 22% of US digital ad spending, according to eMarketer estimates.
An upcoming eMarketer report looks at how Amazon's creation of this mid-summer shopping holiday has fundamentally changed Americans' shopping patterns leading into the important back-to-school season.
New data from Kantar Consulting shows that an impressive 45% of households are more than willing to pay Prime membership fees, in exchange for free two-day shipping, along with ancillary benefits like access to Amazon's streamable content.