Retail
---
Ryan Fagan, director of sales and operations planning at Lowe's, spoke about how the home-improvement brand overhauled the way it verifies which customers are eligible for discounts.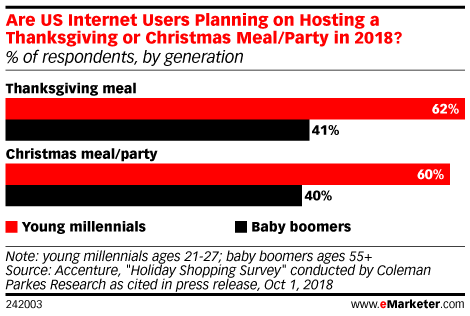 More than half of respondents (54%) plan to shop for premium groceries this holiday season, according to a recent survey from Accenture.
Amazon recently unveiled its first Amazon Go convenience store outside of its home market of Seattle, putting down brick and mortar roots in Chicago. eMarketer's principal retail analyst, Andrew Lipsman, took a spin through the aisles of the new store and reports back on the experience in the latest episode of "Behind the Numbers."
What once sounded fantastical—stores where shoppers could walk out with purchases without waiting in line—is becoming a reality for more than a select few.
Tom Doctoroff, chief cultural insights officer at Prophet, spoke about the drivers of luxury consumption in China.
Mark Donohue, eBay's head of industry, talks about how the company works with advertisers and how it makes ads relevant to its customers' shopping journeys.
Megan Harbold, vice president of ecommerce at The Mars Agency, explains the challenges of advertising on Amazon.
Fast fashion—design trends quickly and cheaply translated for the masses—has had a strong year so far. But unless you're a young woman who takes style cues from social media, many of the more successful online retailers in this space might be foreign to you. According to a September 2018 Hitwise study that looks at fast fashion, mid-tier and premium categories, visits to fast fashion sites grew 20% or more monthly between March-June 2018.
Rob Gonzalez, co-founder and executive vice president of business development at Salsify, explains how brands can use Amazon reviews—the good and the bad—to their benefit.
Doom and gloom often surrounds discussion of brick-and-mortar retail. It's hard not to see the demise of traditional stores like Sears and Toys 'R' Us as bellwethers for the industry. Many stores are closing locations but is it as dire as it seems on the surface?