Retail
---
Retail is in the midst of a radical transformation. In this eMarketer analyst report, we look at what to expect for the US retail and ecommerce markets in 2019, and share key trends that will have an impact on shopper behavior and retailer performance.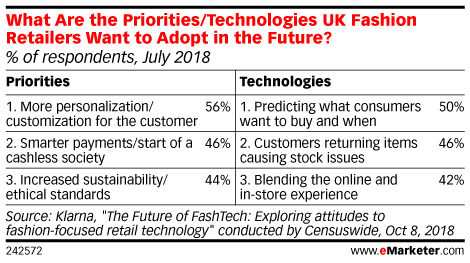 Consumers, especially younger ones, are thinking harder about issues like ecological impact and labor practices when making purchases.
Declining mall foot traffic and competition from direct-to-consumer brands and private-label offerings have hurt mid-tier merchants like Toys "R" Us and Sears. But dollar stores are flourishing.
eMarketer's "Do You Have a Second?" is a mini-podcast that offers a quick hit of the latest digital data. Today, we're talking about online returns for the holiday season, apparel discounting over the Thanksgiving shopping period and consumers' resolutions for the New Year.
Amazon already has a major stake in India's fast-growing ecommerce market. Here's how we know the country is one of its big targets for 2019.
Subscription commerce has captured retailers' attention with its built-in customer base and predictable sales patterns. It may seem like there is a box for everything—think special effects makeup or instant ramen—but not all categories have been embraced equally.
In the latest episode of "Behind the Numbers," eMarketer's Man-Chung Cheung and Monica Peart discuss commerce in China, where technology companies are remaking the brick-and-mortar experience, even as they continue to innovate in ecommerce.
With its increased investment in Instagram Stories, Benefit plans to focus on both organic and paid content in 2019. And rising usage in swipe-up behavior—when a user swipes up on stories content and is taken to a landing page on the brand's website—is opening the door to new opportunities.
In the latest episode of "Behind the Numbers," eMarketer Bill Fisher discusses the evolving UK retail market and the growing impact of mobile shopping.
Store closures are the hallmark of the so-called retail apocalypse, but the demise of brick-and-mortar locations might be more apparent to industry watchers. The average consumer doesn't always pay attention—unless a particular store meant something to them.