Retail
---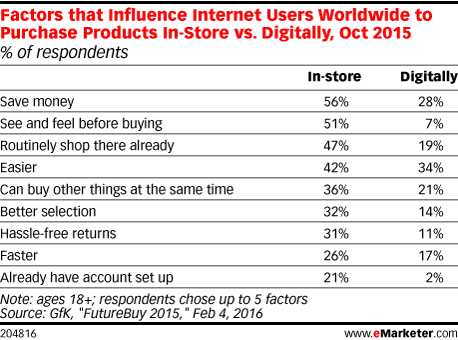 Internet users worldwide are most often influenced to purchase products in-store in order to save money, a Gfk survey reveals. Fifty-six percent of respondents are influenced to make in-store purchases by the allure of saving money, while only 26% are influenced to do so digitally.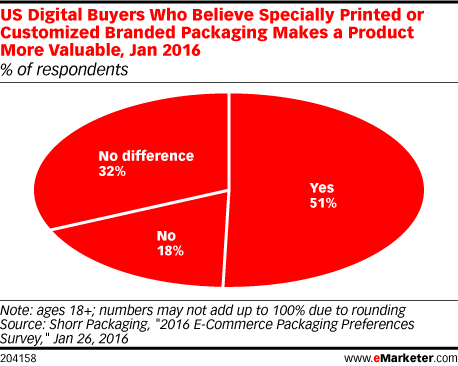 Custom-designed packaging can drive repeat purchases, according to January 2016 research. In fact, more than half of US digital buyers believe it makes a product more valuable.
Marketers have been teaming up with influencers for content creation and promotion, and these types of marketing campaigns have generated impressive results. According to December 2015 research, the beauty and fashion industry has also allocated a percentage of their budget to influencer marketing.
The vast majority of women in Japan who have a new baby or toddler buy baby items online at least sometimes—but according to 2015 research, they're also still heavily reliant on offline purchase channels.
Retailers increasingly offer customers mobile apps with in-store functions, and according to a September 2015 report by Poq, 71% of in-store mobile app sessions by UK users focused on the store finder.
The number of internet users living in a household with an Amazon Prime subscription has grown year over year, according to research. In December 2015, there were nearly 41 million US Amazon Prime households.
Email marketing is huge for retailers, and the first step in the relationship is getting a customer or potential customer's address. According to October 2015 research, the most common place retailers do so is on their websites.
Luxury brands were slow to take their marketing efforts digital, with many fearing they could not offer the kinds of impressive experiences on the internet that they were used to giving customers in person. But customer service has become increasingly important on luxury websites in recent years.