B2B
---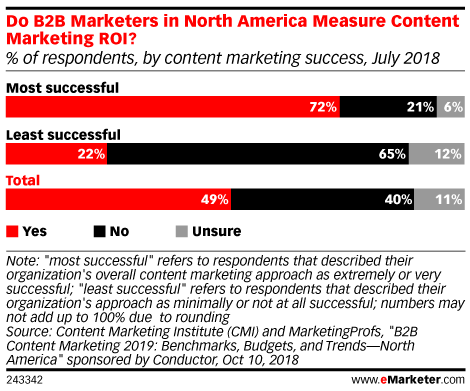 Most business-to-business (B2B) marketers do some sort of content marketing, but they often do not measure the payoff of their content efforts.
In this Meet the Analyst webinar, eMarketer principal analyst Jillian Ryan explores insight and best practices for B2B marketers and sellers to create and share content with their audience across the entire life cycle; from the top of the funnel, through purchase and even as part of the renewal stage.
B2Bs aren't traditionally big spenders on digital ads, but industry experts and our forecasts indicate that 2019 will be a year of growth.
Podcast ads are a rising format for B2Bs, and some are finding success by using podcasts as a driver of direct buyers.
Companies should have a rubric in place to evaluate and essentially score or rank their current customer set. Such a framework allows marketers and all customer-facing teams to align on how to best serve and grow each individual account in a profitable manner.
Irvin Gray, head of marketing at wireless charging provider Chargifi, discusses how loyalty strategy plays out as the company works to acquire customers and grow its business in the early stages.
Kevin Williams, SVP of customer success at marketing automation platform Act-On, discusses why B2Bs need to be thinking about their loyalty strategy at every touch point in the customer life cycle.
In a survey of 250 US B2B sales and marketing professionals, about four in 10 respondents said they are novices or beginners when it comes to integrating data into their CRM systems.
Ian Dahlman, vice president of search and analytics at gyro, explains why B2Bs must continuously test their assumptions about who their audiences are and what they want.
More advanced brands are using intent data and artificial intelligence to model customer lifetime value and implement targeted account-based programs.