B2B
---
In this Meet the Analyst webinar, eMarketer senior analyst Jillian Ryan discusses how to deepen the business relationship and partnership with customers that companies already have. She'll provide an overview of how B2Bs should calculate customer value, and what teams need for a successful customer growth strategy.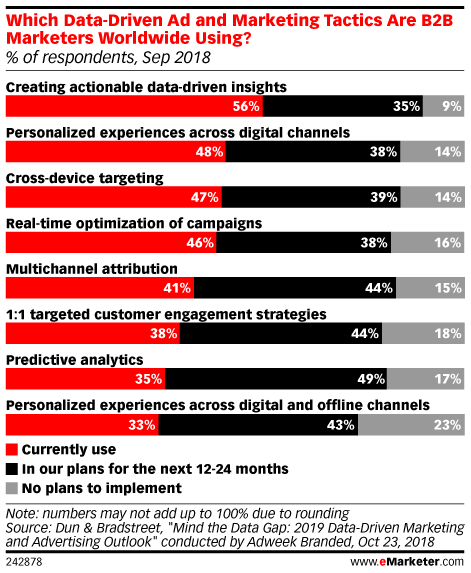 There's a lot of potential for programmatic advertising in account-based marketing, but a foundation must be put in place first.
Podcast ads are a rising format for B2Bs, and some are finding success by using podcasts as a driver of direct buyers.
Companies should have a rubric in place to evaluate and essentially score or rank their current customer set. Such a framework allows marketers and all customer-facing teams to align on how to best serve and grow each individual account in a profitable manner.
Jason Williams, community director for B2B software management system Ipswitch, discusses how he coordinates across internal teams to deploy a loyalty strategy that gets customers talking.
Kevin Williams, SVP of customer success at marketing automation platform Act-On, discusses why B2Bs need to be thinking about their loyalty strategy at every touch point in the customer life cycle.
In a survey of 250 US B2B sales and marketing professionals, about four in 10 respondents said they are novices or beginners when it comes to integrating data into their CRM systems.
Ian Dahlman, vice president of search and analytics at gyro, explains why B2Bs must continuously test their assumptions about who their audiences are and what they want.
More advanced brands are using intent data and artificial intelligence to model customer lifetime value and implement targeted account-based programs.
Five B2B brand marketing leaders talk about how they pushed through barriers, implementing marketing technology solutions at their organizations that integrate disparate data sources and make audience data actionable for advanced and targeted marketing practices.