B2B
---
What exactly is the difference between artificial intelligence and machine learning? If you're unsure, don't worry—you're not alone.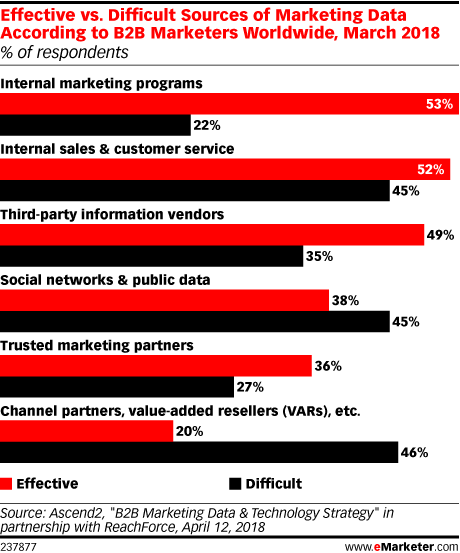 More advanced brands are using intent data and artificial intelligence to model customer lifetime value and implement targeted account-based programs.
How data-savvy are B2B marketers? In the latest episode of eMarketer's "Behind the Numbers" podcast, analyst Jillian Ryan discusses the challenges many B2B marketers face in managing their marketing data. What are they doing well? Where do they need improvement? This podcast is sponsored by Mower.
But just 41.2% of B2B marketers surveyed by InsightSquared and Heinz Marketing said they are satisfied with the analytics and reporting they receive from their automation vendors.
Business-to-business ecommerce sales will have explosive growth in coming years and will soon rise beyond the business-to-consumer market, according to industry forecasts.
Doug Root, CEO of ALB Energy Solutions, discusses the tactics the company uses to maximize ecommerce sales.
Chris Hiller, general manager of Freund Container & Supply, discusses how its 40,000 active business-to-business (B2B) customers get a customized ecommerce experience.
Erin Stender, vice president of marketing at online giving platform Classy, explains how content helps move customers down the sales funnel.
David Jonker, vice president of thought leadership marketing at SAP, discusses his team's use of technology to deliver a bespoke content experience.
B2B marketers will continue to rely on data and deep background research to better understand and engage their prospects and customers.