B2B
---
eMarketer analysts Jillian Ryan and Lauren Fisher explore the key types of data B2B marketers are identifying, how those firms source and collect their data, best practices for keeping data up to date and more.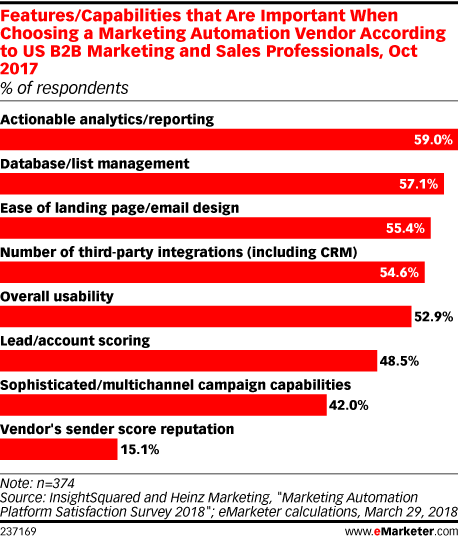 But just 41.2% of B2B marketers surveyed by InsightSquared and Heinz Marketing said they are satisfied with the analytics and reporting they receive from their automation vendors.
Thomas Prommer, managing director of technology at Huge, explains why B2Bs can alienate their customers if they eliminate the human element of commerce.
Mike Brooks, CMO of Ferguson Enterprises, discusses how the company got its salespeople to embrace digital.
In 2018, nearly nine in 10 business-to-business (B2B) companies in the US will use digital content marketing, eMarketer estimates. As adoption reaches the saturation threshold, continued growth will require more refined and mature programs.
Amber Naslund, senior director of industry leadership at Hootsuite, discusses why content marketing should go beyond the marketing department.
In the latest episode of eMarketer's "Behind the Numbers" podcast, senior analyst Jillian Ryan breaks down the state of B2B content marketing: How widespread is the use of content marketing amongst B2B companies, and where will they focus their efforts this year?
According to a survey of business-to-business (B2B) marketers, owned media wins the highest share of marketing spending.
Ivo Totev, CMO of SAP's ERP solution, S/4HANA, discusses the challenges of delivering omnichannel digital advertising while still optimizing every channel.
B2B marketers deal with a more complex path to purchase. New research shows that offering potential clients content downloads can help to drive conversions.