B2B
---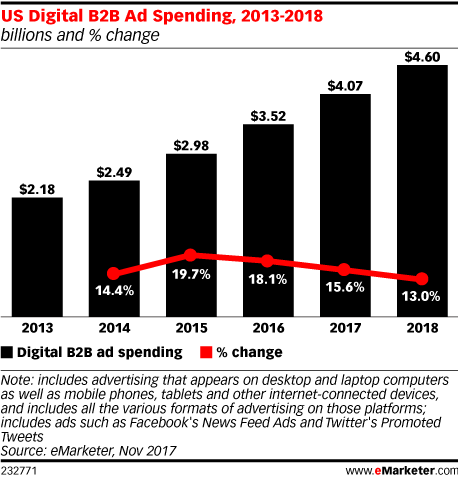 eMarketer estimates that US business-to-business (B2B) advertisers will spend $4.07 billion on digital advertising in 2017. The B2B digital ad market is growing steadily, and in 2018 it will jump 13% to reach $4.60 billion.

Ivo Totev, CMO of SAP's ERP solution, S/4HANA, discusses the challenges of delivering omnichannel digital advertising while still optimizing every channel.
B2B marketers have long valued events to generate new sales leads. But they are investing in digital to augment traditional channels.
Evyenia Wilkins, vice president of account-based marketing at Traackr, explains why her company moved forward with ABM before investing in marketing technology.
Kristen Wendel, marketing operations director at LeanKit, discusses how the company tackles account-based marketing.
Jim Sampson, account director at gyro, discusses how the marketing agency effectively executes account-based marketing.
Chris Rothstein, CEO of sales enablement technology Groove, talks about the missing pieces in the marketing technology stack for B2Bs.
There's a lot that B2B sales professionals want in a sales enablement solution, ranging from offline access to automatically recommended content.
Marketo's senior director of enterprise marketing, Charm Bianchini, explains how access to more data from events helps the company fine-tune its strategy and achieve a five times return on their investment.
Kurt Miller, senior vice president of strategy and planning at George P. Johnson, talks about the types of technology that are prompting B2B events to evolve into data goldmines.