B2B
---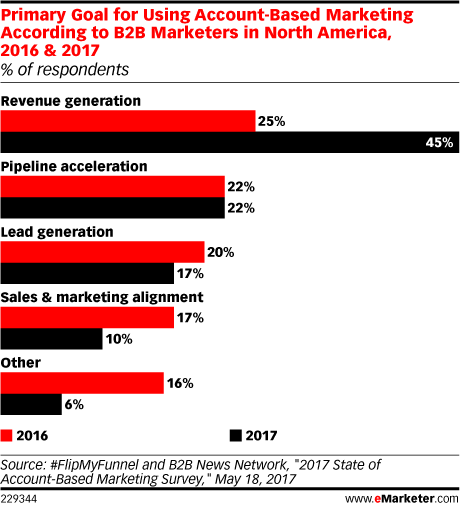 Determining just how many B2B organizations are implementing an account-based marketing (ABM) strategy is difficult. In fact, data points on adoption are all over the map, especially since many of the surveys about the topic are commissioned by ABM vendors.

Evyenia Wilkins, vice president of account-based marketing at Traackr, explains why her company moved forward with ABM before investing in marketing technology.
Matt Heinz, president and founder of Heinz Marketing, explains how B2Bs should approach account-based marketing, and why it makes a difference for buyers.
Masha Finkelstein, director of demand generation at BetterWorks, discusses why her team transitioned to account-based marketing and never looked back.
Face-to-face events remain an extremely valuable marketing touchpoint used by B2B marketers to reach buyers and move them down the funnel. As digital marketing tactics become more measureable and data-driven by means of marketing technology, in-person events must follow suit to justify the spend for competing dollars.
Uberflip's vice president of marketing, Shannon Dougall, explains how multitouch attribution paints a clear picture of how leads from its events move through the purchase funnel.
Mike Stiles, Adobe's senior corporate events manager, explains what it takes to put on a digitally driven business-to-business (B2B) event.
Alon Alroy, co-founder and chief of marketing at Bizzabo, outlines the key components of an event technology stack.
Staples Business Advantage's Mark Pickett tells eMarketer how Staples is building a more complete customer view that benefits both their B2C and B2B divisions.
Buyers use their mobile devices as an extension of their desktop, and they expect the journey across all devices to be seamless. Today, B2B companies are hoping to meet this evolution in device behavior by reframing their mobile strategy in a variety of ways.Topics in this webinar include: How B2B buyers have shifted their behaviors around mobile; What disconnect exists today between buyers' expectations and the customer experience; Why mobile should no longer be treated as a single channel; More key trends to consider for the year like app development, mobile commerce and sales enablement.