B2B
---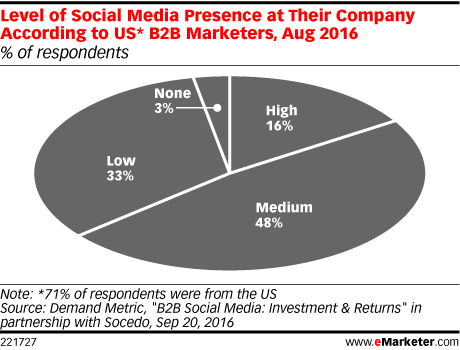 More B2B marketers say they are investing in social media marketing to drive brand awareness and generate leads. But many of those same marketers also say that social media's return on investment has been lower than expected.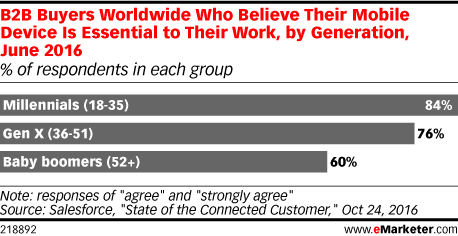 As mobile use continues to rise, mobile devices are no longer a secondary consideration for buyers or their work.
For B2Bs, account-based marketing (ABM) was the buzzword of 2016 and the trend is expected to continue into next year. Here are five ABM myths for B2Bs to forget in 2017.
Miles Kelly, vice president of product marketing at DocuSign, discusses why mobile functionality is a priority for the company.
As businesses come to terms with tapping into artificial intelligence (AI) to improve operations, one key concern for B2B marketers is how it will be integrated effectively.
Business-to-business (B2B) firms that sell online are getting more sophisticated about their efforts, according to August research. They're more than twice as likely to offer click-to-chat features as a year ago, and also significantly more likely to have a responsive website design.
Almost half of business-to-business (B2B) IT consultants use their customer relationship management (CRM) platforms daily, according to September 2016 research. And these same respondents feel they just can't live without them.
B2B marketers are embracing the use of "buyer personas" to inform a variety of content marketing efforts. But how do organizations go about building a buyer persona, and who is responsible for leading the process?
Integrating data systems and technologies properly is critical for B2B marketers to respond to their audience in a quick and relevant way. According to March 2016 research, most report at least intermediate competence across a long list of tools and technologies, with analytics at the front of the pack.
More B2B marketers are reporting a noticeable increase in company sales thanks to their use of marketing analytics. Many B2B executives note such tools offer significant benefits when it comes areas like allocating marketing spend and optimizing across different channels.