B2B
---
Experts in business-to-business marketing offer tips for B2Bs wary of engaging with social media.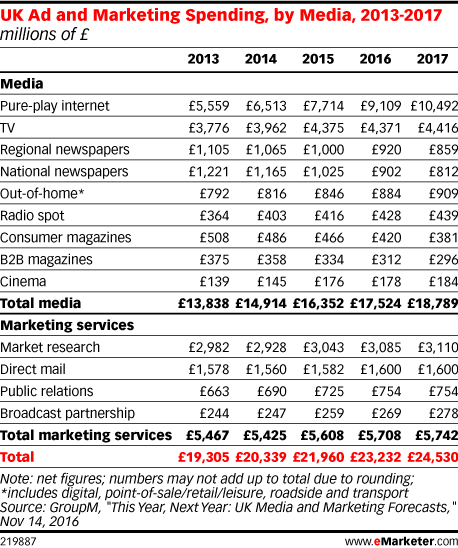 A significant share of B2B agencies in the UK are feeling less confident about their future growth since the UK voted to leave the EU. B2B publishers could feel the pinch.
As mobile use continues to rise, mobile devices are no longer a secondary consideration for buyers or their work.
Jay Bowden, Google's industry director for the tech B2B (business-to-business) vertical, talks about mobile marketing for B2B companies.
Lars Vedo, senior mobile product manager at social media management vendor Hootsuite, explains why creating mobile-ready content—especially video—is important for business-to-business (B2B) companies.
Russell Glass, vice president of products for LinkedIn Marketing Solutions, spoke with eMarketer about how B2Bs can make the most of mobile marketing.
Nearly half of B2B marketers say they plan to invest a quarter or less of their ad spending budgets on programmatic ad buying. The spending plans point up a variety of concerns that B2Bs have when it comes to programmatic.
Jessica Sousa, senior manager of customer marketing at Lionbridge, talks about the company's account-based marketing program, which focuses on cross-sell and upsell opportunities.
More than two-thirds of business-to-business (B2B) marketers worldwide devote dollars to social media advertising, according to September research. And among those who do, platforms like Facebook and LinkedIn appear to deliver the best ROI.
Well-produced and -managed marketing content sets up awareness, creates demand <i>and</i> enables sales. According to September research, more than half of business-to-business (B2B) decision-makers said their sales enablement strategy can be improved upon by serving hyperrelevant content at the right time—and by making it easier to find.