B2B
---

Zachary Abbell, director of ecommerce at office supply brand Poppin, talks about building a successful B2B ecommerce platform.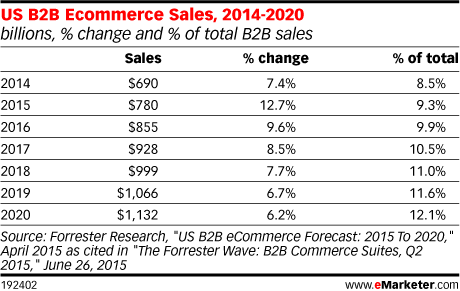 Changing expectations from business-to-business (B2B) buyers are driving B2B companies to develop and grow their ecommerce portals. Although the industry is expanding year over year, it is still in the early days of development.
Karen Gandhi, director of operations at Boxed Wholesale, a bulk shopping service, discusses why and how the company evolved its business strategy to meet the needs of business-to-business (B2B) buyers.
Kara Howard, vice president of global merchandising at business card provider Vistaprint, talks about the company's intuitive self-service portal for its business-to-business (B2B) customers.
Bonnie Crater, president and CEO of Full Circle Insights, discusses how B2B companies are increasingly using more complex attribution models.
Marketers are increasing their investment in sales enablement, and compared to 2015, nearly a third of US B2B marketing and sales professionals said their budgets increased at double-digit rates.
More B2B marketers recognize the benefits of content marketing, using the discipline to help them drive new customer leads and increase engagement. However, many also find that the most effective content material like research reports and video can be difficult to create.
About six in 10 business-to-business (B2B) marketers in Japan agree that marketing automation is beneficial, according to January 2016 research. The biggest reason to use such technologies is to help visualize the results of sales and marketing promotions.
Research suggests a growing number of B2B marketers rely on marketing technology tools to attract and retain customers. More than half of executive respondents in a study confirmed they already invest, or planned to invest, in tools like CRM, marketing automation and content management systems in 2016.
Len Shneyder, vice president of industry relations at email delivery company SparkPost, discusses the role that sales enablement technology plays in aligning and tracking content, as well as keeping the pipeline full.