B2B
---

Jason Widup, senior director of demand generation and marketing operations at Getty Images, explains how the business-to-business (B2B) company uses predictive capabilities to identify opportunities in its pool of current customers and beyond.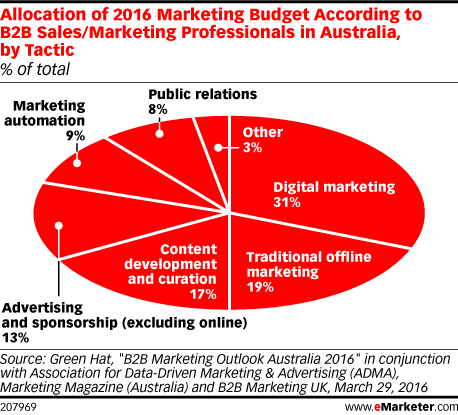 B2B marketers in Australia are getting increasingly sophisticated in their approach to digital marketing, turning to tactics like marketing automation and social media to help generate leads.
While building market share continued to be one of the biggest challenges of 2015 for B2B marketers in the US and Western Europe, other business obstacles have become increasingly tricky compared to the year prior. Customer retention and increasing brand awareness are other hurdles they faced.
B2B marketers have made advancements in mobile in the past three years, per research. In 2016, 79% of B2B marketers said they had a mobile-friendly site, an increase compared to the 57% of respondents who had one in 2014.
Email marketing has been a dependable channel for many companies. And according to June 2015 research, it continues to be a top tactic used by business-to-business (B2B) companies to promote ecommerce activities.
The amount of content B2B marketers are creating is expected to drastically increase in 2016. With this amplified emphasis on content marketing, these marketers have evolved in their approach and strategies—they are looking at the long game and realizing that although waiting 18 to 24 months for results is not ideal, it is the new reality.
Steve Chadwick, director of marketing communications at Verizon Enterprise Solutions, told eMarketer about the company's content strategy and results.
Genpact (formerly GE Capital) dedicates half of its marketing budget to content marketing. Content leader Amrita Thapara explains why.