B2B
---

John Anagnost, senior director of sales strategy and enablement at Rocket Fuel, talks about accelerating sales opportunities at the programmatic marketing and media buying company.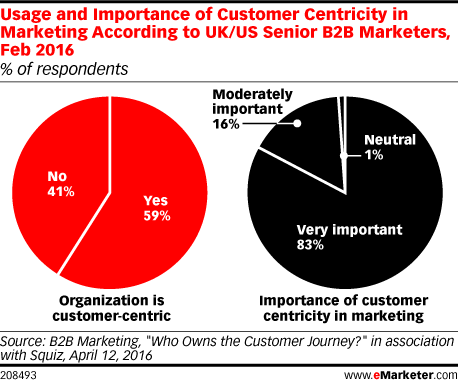 Customer centricity, a philosophy built around identifying and targeting a company's most profitable customers to drive growth, is gaining a growing following in the B2B sector. According to research, many of the philosophy's adherents are turning to marketing automation and CRM tools to help build out their capabilities in the discipline.
B2B marketers in Australia are getting increasingly sophisticated in their approach to digital marketing, turning to tactics like marketing automation and social media to help generate leads.
Matt Heinz, president of agency Heinz Marketing, spoke to eMarketer about why B2B marketers should use predictive technology.
eMarketer checks in with Dun & Bradstreet CMO Rishi Dave to see how the role of marketing technology evolved at the business information services company throughout 2015 and how it's influencing priorities for 2016.
Leads are key to business-to-business (B2B) marketing, and B2B marketers are working to explore the most effective ways of using digital channels to get and nurture those leads.
The business-to-business (B2B) world has widely adopted lifecycle marketing, according to 2015 research. But some stages are being neglected, and many firms still have not gotten on board.
B2B companies may be eliminating some of the need for a sales force by offering different types of functionalities—from tiered pricing to cross-sells and upsells—to customers on their website. Newsletter sign-ups are the top features, according to 2015 research.
Moz, an inbound marketing tool provider, publishes at least one piece of content every day. CMO Annette Barnes Promes reveals why content is so essential to Moz's business-to-business (B2B) customer acquisition strategy and how the firm tracks and measures the success of its program.
ADP, an end-to-end human resources solutions provider, has shifted from its traditional direct sales model to a digital-first, content-centric marketing approach. Andy Hilton, vice president of communications, content and brand, describes those content initiatives.