Trending
---
eMarketer vice president of business development Marissa Coslov discusses our latest estimates for revenues derived from app installs in the US and growth drivers like Snapchat and TikTok.
Americans are poised to spend $590.67 billion in retail ecommerce in 2019, with a year-over-year growth rate of 12.8%. "To keep growing at double-digit rates, future channel growth will increasingly rely on continued strong gains in the spending rate per buyer," said Andrew Lipsman, eMarketer principal analyst. eMarketer has curated this Roundup of articles, insights and interviews to help you understand the latest trends in the retail industry.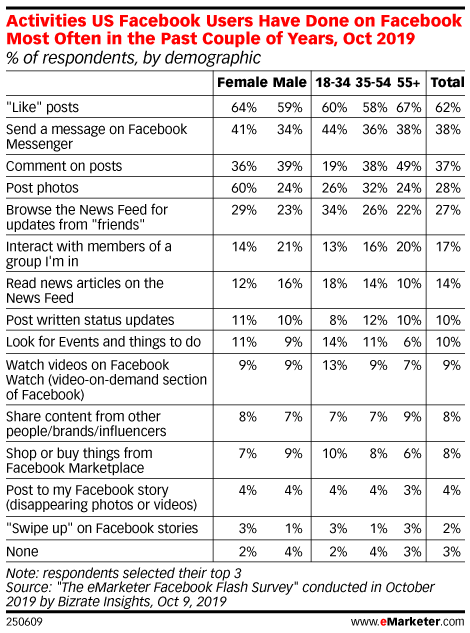 For this update, we look at Instagram's test to remove likes, the launch of Facebook Pay, Twitter's new feature that allows users to hide replies and Snapchat's new longer video ad format, as well as an update on political advertising. It also includes a preview of our latest social network user forecast, which will be discussed in detail in our upcoming social network users report collection, publishing on December 12.
Shopping for furniture can be overwhelming whether online or in-store. It's something the co-founders of Burrow found out firsthand years ago when they were looking to invest in their own big-ticket items.
eMarketer junior forecasting analyst Nazmul Islam compares our mobile messaging app usage numbers with our mobile social networking usage figures and the factors behind the increasing gap.
The General Data Protection Regulation (GDPR), enacted in May 2018, was supposed to cause a huge backlash against programmatic trading in the UK. It was going to bring heightened awareness of privacy among consumers and more scrutiny of ad tech than ever before. Marketers were going to become wary of playing "fast and loose" with consumer data. Of course, there have been varying degrees of truth in those statements, and while initial effects were felt, the longer-term impact on programmatic ad spend has not been substantial.
eMarketer executive editor Rimma Kats and principal analyst Andrew Lipsman discuss what brick-and-mortar retail 2.0 will look like. They then talk about the implications of a controversial Peloton ad, what's going on with package theft, Away's CEO stepping down and how much returns matter.