Artificial Intelligence
---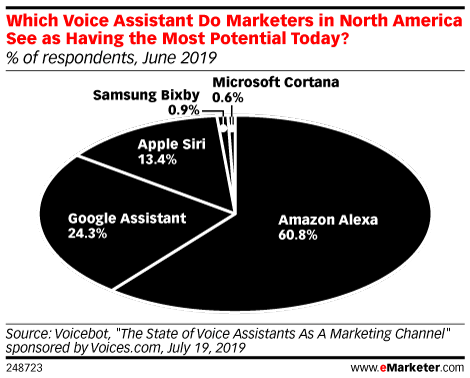 eMarketer principal analyst Victoria Petrock explains how much you can learn from someone's voice, British Airways's VR in-flight entertainment headsets and a recent facial recognition ruling against Facebook.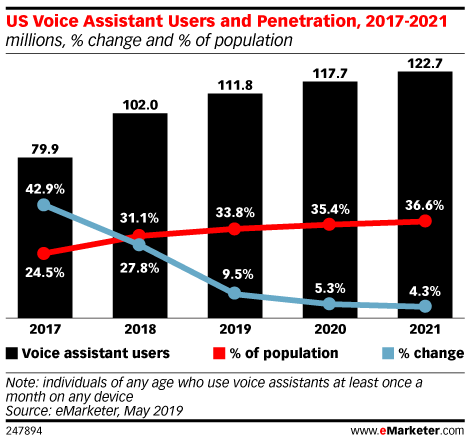 In just a few short years, Siri, Alexa and Google Assistant have gone from being virtual unknowns to familiar household names. As these voice assistants—and others—continue to gain traction on smartphones and smart speakers, the market is expanding quickly. Voice-control technology has officially moved out the early-adopter phase and into the mainstream.
Consumers are hesitant to engage with the latest automated customer experience offerings. In industries like healthcare and financial services, many prefer to consult with humans through traditional mediums. But in retail, more are willing to use emerging technologies—including chatbots and artificial intelligence (AI).
eMarketer principal analyst Victoria Petrock and director of research Chris Keating share the latest eMarketer forecasts on the US voice assistant market. They also explain the distinction between voice assistants and smart speakers and analyze related developments from Amazon, Google, Microsoft and more.
eMarketer forecasting director Shelleen Shum shares our usage numbers on smart speaker models in the US, which includes a promising outlook for non-Google and -Amazon varieties. Watch now.
eMarketer forecasting analyst Eric Haggstrom breaks out our estimates on the number of consumers who are researching products and making purchases via smart speakers, and why the absence of visuals may be impacting growth. Watch now.
eMarketer forecasting analyst Eric Haggstrom explores how often people in the US use voice assistants and the tasks driving this adoption. Watch now.
eMarketer forecasting analyst Eric Haggstrom shares our US numbers on smart speaker users, including its most popular age group. Made possible by Teads. Watch now.
As the US smartphone market decelerates, Apple and Best Buy have been experiencing slower sales growth, and we forecast that the number of smartphone users will grow just 3.0% in 2019.
Marketers are looking to chatbots to help personalize the automated aspects of customer service, but many believe the technology still has some ways to go before catching up with their expectations.