Artificial Intelligence
---
Training an artificial intelligence (AI) algorithm requires data—lots of data. But staying GDPR-compliant while acquiring that data can be almost impossible.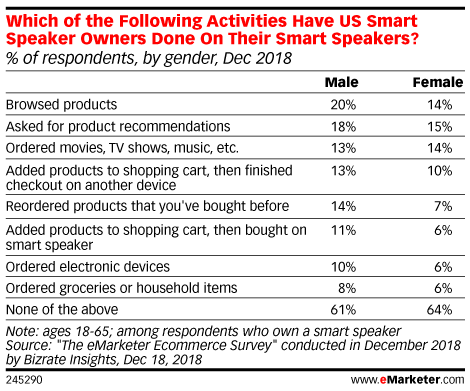 Greater disposable income, easier automation, and a desire to research products and prices drive men's paths to purchase via smart speaker more than women's.
As use of AI grows (27% of executives in a PwC study have already implemented AI), so do calls for ways to interpret how AI models make decisions. This has given rise to a new buzzword: explainable AI, which refers to algorithms that make decisions humans can explain. PwC, for example, says it "integrates risk mitigation and ethical concerns into algorithms and data sets from the start."
Retail executives and consumers in the US, the UK and Australia have widely disparate expectations about artificial intelligence's (AI) and virtual reality's (VR) effects on the retail sector
China's tech-driven retail revolution is turning stores into laboratories for retail experiments and introducing consumers to completely new shopping experiences.
As new voice tech has emerged, functions normally embedded in phones have begun shifting to smart headphones, aka hearables.
In 2019, 5.8 million people in Canada will use a smart speaker at least once a month. That's a 51.2% increase from 2018, according to eMarketer estimates.
Consumers in the market for a smart speaker have more options than ever, and Amazon will lose some of its majority share as a result.
The number of smart speaker users in the UK is set to grow by almost one-third in 2019, after doubling this year. And the speaker of choice is decidedly the Amazon Echo, according to eMarketer's latest forecast. But how long will Amazon be able to hold on to the lead?
In the latest episode of "Behind the Numbers," analyst Victoria Petrock explains why voice-activated technology is poised to change the healthcare industry. How do consumers feel about the technology? And how is the industry currently putting it to use?