Retail & Ecommerce
---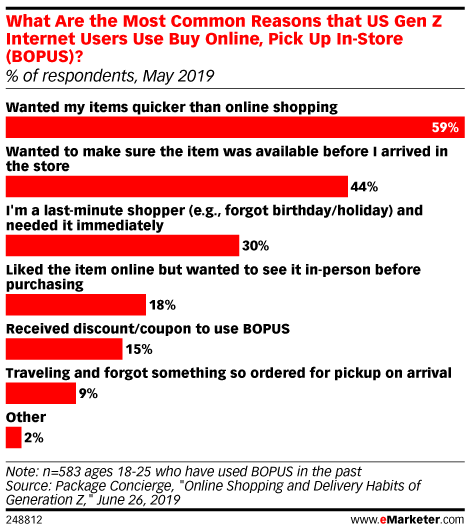 "Buy online, pick up in-store" is a retail service that a dominant proportion of today's youngest consumers are taking advantage of, according to Package Concierge. Nearly two-thirds of US Gen Z shoppers, surveyed by the mailbox tech company in May 2019, reported using BOPUS within the past month.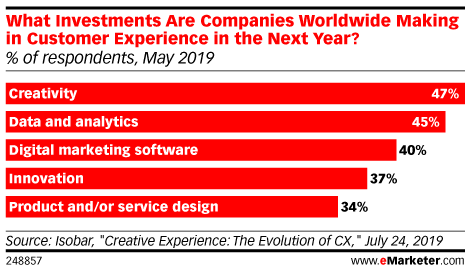 Retailers can't always rely on customer feedback to measure the success of their ecommerce platforms. Small technical issues, which often go unnoticed by the business itself, can significantly hinder the customer experience.
Utilizing marketplaces is one way for a seller to expand reach. But for some manufacturers and distributors, that increased reach is not worth the competitive threats that they may face on a marketplace.
eMarketer principal analysts Nicole Perrin and Andrew Lipsman discuss what makes for a good loyalty scheme. They also break down Pinterest's Q2 results, the impact of a negative review and lessons learned from Amazon Prime Day 2019.
eMarketer's very own gamers, corporate account manager Brandon Galindo and sales executive Michael Bruckenthal, explain what happened at the Fortnite World Cup. What did the esports competition look like, how much did competitors win and how do parents feel about their kids participating? Then vice president of content studio Paul Verna, discusses updates to Spotify's new Ad Studio, Walmart's latest driverless delivery partnership and why DoorDash bought Caviar.
In 2019, US retail search ad spend will increase 22.5% to $13.12 billion. Retail search spend is bolstered by Google Shopping ads and lower-funnel ads that are essential for driving ecommerce.
We expect a shift in US digital ad spending next year, as economic factors weigh on certain industries. In 2020, financial services will displace the auto sector, while travel will surpass consumer packaged goods (CPG).
The back-to-school shopping season is shifting from late- to midsummer, driven largely by events like Amazon Prime Day. Leveraging this change, online retailer Zulily is employing a mobile-focused strategy that pushes consumers to purchase all summer long.
Loyalty marketing goes beyond loyalty programs, but they are still an important part of the customer experience and a vital channel for keeping customers engaged and spending.
Retail messaging can often feel like a game of Goldilocks. Too many messages can frustrate and push consumers away, while fewer communications can put the brand at risk of no longer being relevant.