Retail & Ecommerce
---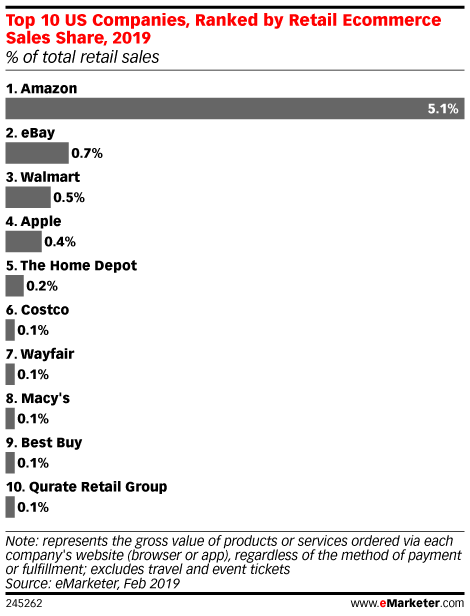 In the latest episode of "Behind the Numbers," we're looking into Walmart's digital sales and how the brick-and-mortar giant has used its vast physical footprint to win a big chunk of the ecommerce market.
After a great year for retail—rising 5.3% in 2018—sales will slow but also expand 3.2% in 2019.
Greater disposable income, easier automation, and a desire to research products and prices drive men's paths to purchase via smart speaker more than women's.
The global ecommerce market is in a state of both expansion and consolidation. More consumers than ever before are buying digitally, and worldwide retail ecommerce sales are rising. At the same time, major international players like Amazon and Alibaba are widening their reach by buying up smaller local platforms, especially in burgeoning ecommerce markets.
While Congress considers several proposed bills to avert a shutdown over budgetary battles, hundreds of thousands of federal workers–many of whom live paycheck-to-paycheck or close to it–face the possibility of a second painful round of temporarily going without a paycheck for an undetermined length of time.
Valentine's Day is evolving and growing to be more inclusive—with that, consumers are celebrating and shopping differently.
Ratings and reviews matter a great deal during the shopping process. Not only can they influence a purchase—or steer consumers to one store over another—but they can also get shoppers to spend more than they intended.
Facebook reported its Q4 2018 earnings on Wednesday, beating expectations for ad revenue and user growth. In this eMarketer Analyst Insight, Senior Analyst Jasmine Enberg and Principal Analyst Debra Aho Williamson explain four key takeaways for advertisers.
Consumer brands have long competed against each other, first in brick-and-mortar stores and now online. But the latest competitive threat is coming from an unexpected source: Amazon's 135+ private-label brands, as tallied by TJI Research.
The possibility of having to return something is dissuading consumers from buying certain products online.