Retail & Ecommerce
---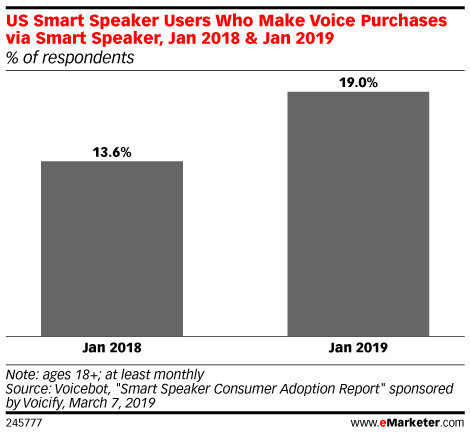 Monthly purchases made via smart speakers rose by 5.4% year over year in the US, per January 2019 data from voice tech companies Voicebot and Voicify. However, those who shopped using voice accounted for less than one-fifth of smart speaker users.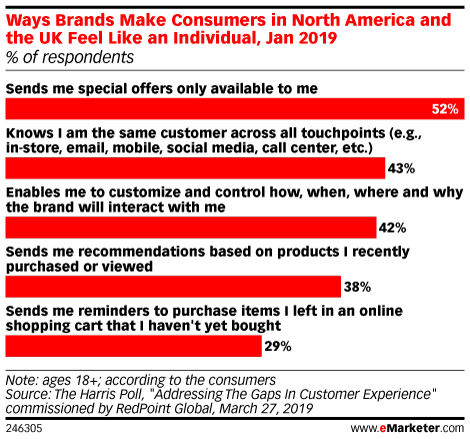 According to a November 2018 study from AllianceData, a majority of the consumers surveyed said they want more control over email frequency and the content they receive from brands. Meanwhile, just a small number of marketers said they are meeting those needs.
In the US, almost half of marketers think they're delivering an "excellent" customer experience, according to January 2019 research from The Harris Poll. But fewer than a quarter of consumers felt the same.
From their mailboxes to their mobile phones, shoppers look for coupons everywhere, but convenience is a must. For marketers, it's important to provide consumers with discounts that are easy to find and use.
In 2018, total worldwide app revenues grew 63% year over year, according to app commerce company Poq. Additionally, time spent in shopping apps grew 45% from two years prior, per data from App Annie.
According to a survey from Simmons Research completed in August 2018, an average of 27.4% of parents said they were more likely to buy products they see used or recommended by friends on social sites. This is higher than one-fifth of total adult respondents who said the same.
Gen Z is a tough generation for retailers to figure out. They grew up on the internet, but don't like to be targeted with ads there, and crave authenticity in all of their interactions. We parsed the research to help retailers figure it out.
While retail ecommerce sales are growing rapidly in the US, brick-and-mortar shopping is still important to consumers. They'll spend almost 90% of their retail dollars in person this year, and a large portion of that foot traffic comes from webrooming.
Earlier this month, Philadelphia passed a bill rendering cashless stores like Amazon Go and Sweetgreen illegal and banning future establishments from completely abandoning cash. By July 2019, most retailers in the city will be required to offer consumers a cash payment option.
Brands that focus on supply chain sustainability—by showcasing factory conditions, production processes and waste solutions—bode well with young consumers.