Retail & Ecommerce
---
Furniture is one of the fastest-growing categories in ecommerce today. More consumers have come around to the idea of purchasing furniture online, and new direct-to-consumer (D2C) companies are entering the space, hoping to win market share by streamlining aspects of the customer experience like cost, shipping and installation.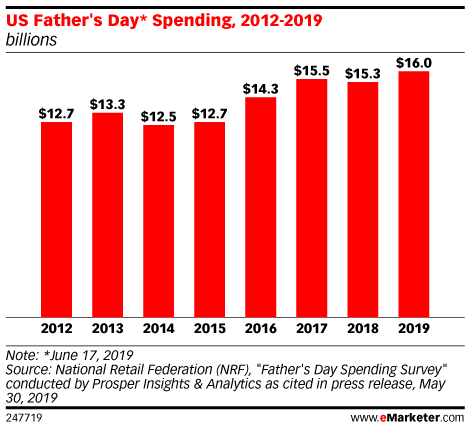 Spending on Father's Day gifts is expected to reach a record high $16.0 billion, according to a May 2019 report by the National Retail Federation (NRF). But that doesn't mean fathers should expect to receive anything too glamorous—greeting cards are still the most popular type of gift that consumers plan to purchase.
The online grocery space is immense and fast-growing, with players such as Walmart and Target leveraging their sizeable brick-and-mortar locations to take on Amazon. As the landscape continues to shift, here's what marketers need to keep in mind.
eMarketer senior forecasting analyst Cindy Liu shares our numbers for online food and beverage sales and reveals the category's dominant retail player. Watch now.
eMarketer junior forecasting analyst Nazmul Islam explores our ecommerce sales estimates for Latin America and the reasons why aggressive growth is coming. Watch now.
eMarketer's senior forecasting analyst Cindy Liu shares our retail spending numbers for the beginning of the year and the underlying factors behind the sluggish start. Watch now.
According to a March 2019 survey from consumer intelligence platform Toluna, more than one in four US internet users would be motivated to consider trying a new direct-to-consumer (D2C) brand if they were offered a free trial period.
While many shoppers still pay with cash, mobile payment utilization continues to increase. To keep adoption rates on the rise, however, better improvements to visibility, quality, connection and usage instructions will need to be implemented.
Finding the right balance when serving personalized content to consumers can be tricky. But marketers that do this successfully understand that fostering better communication with their target audience is key.
After initial signs of success, Kohl's will expand its Amazon returns program nationwide in July. The pilot program, which launched in Chicago and Los Angeles in 2017, performed particularly well, leading to 9% growth in new customers and 8% growth in revenues compared with national growth of 1% and 2%, respectively, according to payment data analyzed by Earnest Research.