Retail & Ecommerce
---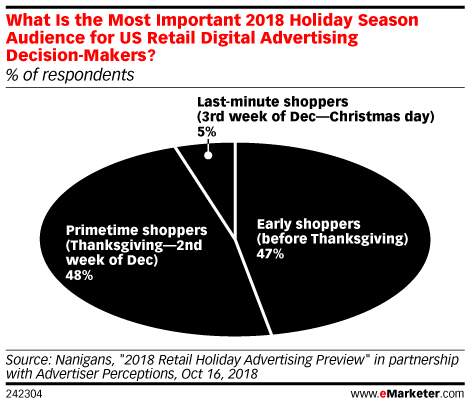 Retailers believe that early birds and primetime shoppers are the most important holiday audience. Procrastinators? Not so much.
First books, now … mattresses? Amazon and a host of new brands are shaking up the mattress industry and remaking the customer journey. eMarketer's Andrew Lipsman lays out the facts and data.
A new National Retail Federation study examines what it is calling "value shoppers," the 89% of US consumers who frequent discount retailers. With a figure that high, this behavior transcends gender, region, income and age.
Everyone knows shoppers love discounts, but how do they find them and which channels do they prefer?
Hossein Rahnama, founder and CEO of fintech AI firm Flybits, explains the benefits and challenges of virtual assistants for brands in Canada.
For the 2018 holiday season, eMarketer expects total US retail sales to grow 4.1% to $986.8 billion, with ecommerce jumping 16.2% to $123.4 billion.
Every week on eMarketer's "Behind the Numbers" podcast, we take a few minutes to discuss some of the most intriguing headlines of the past seven days. This week, some of the topics we're talking about include a security breach at Facebook that exposed roughly 50 million accounts and how Amazon has increased its minimum wage to $15 an hour.
More than half of respondents (54%) plan to shop for premium groceries this holiday season, according to a recent survey from Accenture.
Direct-to-consumer (D2C) brands—encompassing everything from startups like Billie offering women's razor subscriptions to Casper, the once online-only mattress company that has products now being sold at Target—have been growing in popularity for a variety of reasons.
Based on consumer surveys, the holiday season is shaping up to be more mobile-driven and social media-influenced than in years past. According to PwC, the 2018 holiday shopping period is on track to be one of the strongest since 2005.