Retail & Ecommerce
---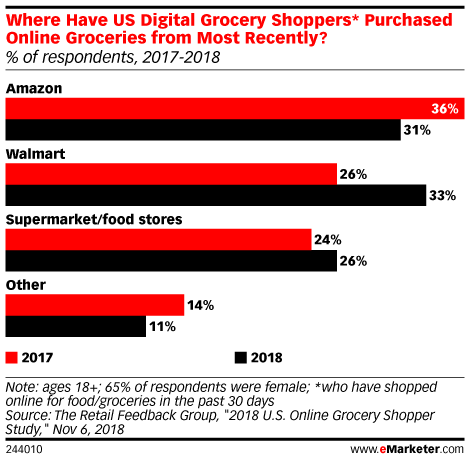 The numbers aren't in yet, but Walmart might have overtaken Amazon as the largest digital grocery player in the US.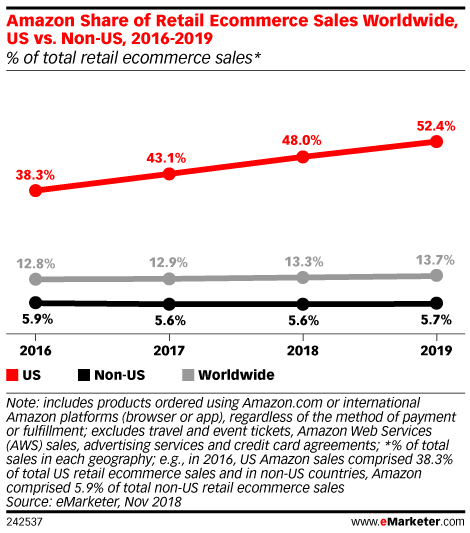 In 2018, Amazon kept pushing the envelope, and not just in the retail space. It tested the healthcare market, spoke up in the voice-assistant space, solidified its place as a major player in the digital advertising world, and rolled out private labels at a furious pace. Oh, and it appears to be poised to create a major brick-and-mortar footprint in the near future. In this "Behind the Numbers" playlist, track eMarketer's coverage of Amazon through the year.
For the first time, holiday retail sales will cross the $1 trillion mark. Up 5.8% from the year prior, the 2018 season will benefit from near record-high consumer confidence, strong ecommerce sales and over 30 shopping days between Thanksgiving and Christmas.
Voice commerce might one day change how people shop online. But for now, only a minority of consumers regularly use a voice-activated smart speaker to make purchases.
eMarketer's "Do You Have a Second?" is a mini-podcast that offers a quick hit of the latest digital data. Today, we're talking about cookies—who's baking and who's buying—millennials' attitudes about kindness (and what that might mean for shopping), and wearable device growth.
Amazon already has a major stake in India's fast-growing ecommerce market. Here's how we know the country is one of its big targets for 2019.
Retailers often focus on customer acquisition—a costly prospect—at the expense of customer retention. Instant gratification can be a bigger incentive than building loyalty over time.
Social commerce has reinvented itself many times over but has yet to prove itself as a solid sales tactic. Next year, the version that has been evolving during 2018 could finally take hold.
Despite the ubiquity of online shopping, consumers still rely on face-to-face interaction in the path to purchase, whether it be for getting product information, seeing in-person demos or tracking down items in other stores.