Retail & Ecommerce
---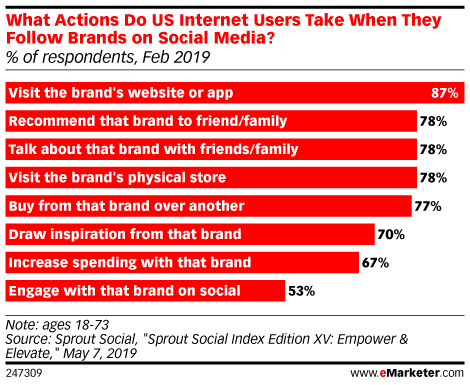 Building a social media following isn't just a great way to engage customers online, it can also help increase brick-and-mortar foot traffic.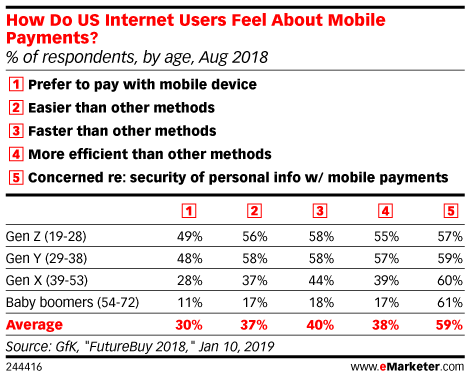 While many shoppers still pay with cash, mobile payment utilization continues to increase. To keep adoption rates on the rise, however, better improvements to visibility, quality, connection and usage instructions will need to be implemented.
eMarketer vice president of research Jennifer Pearson and principal analyst Mark Dolliver discuss Mother's Day shopping, spending and digital usage habits in the US.
According to a March 2019 RetailMeNot study, internet users looking for more information in-store often skip approaching retail associates and go directly to their smartphones. Sixty-nine percent of respondents said they would look for reviews on their phone first, and 53% would search for deals before speaking with an employee.
Loyalty programs have drawn in many consumers over the years, but millennials and Gen Zers are not participating at the same level as those generations before them did.
Three in five US internet users say they've purchased clothes, shoes or accessories online in the past month, according to an April 2019 eMarketer survey conducted by Bizrate Insights. That figure climbs to 68% for females as well as younger consumers (ages 18 to 34).
One sector seeing major growth is Walmart's CPG categories. Although trailing Amazon in volume across nearly every category, Walmart's year-over-year growth is substantial. According to an April 2019 release from marketing analytics platform Jumpshot, Walmart's 2018 growth outpaced Amazon in five major CPG categories.
Last week, Amazon announced its latest ploy to attract and retain Prime members: An $800 million investment in one-day delivery. This expansion initiative comes when growth among its most lucrative shoppers is waning. We estimate that US Prime user growth will be less than 9% this year, vs. 12.5% in 2018.
Younger, digitally engaged consumers love to use almost any technology that might make their buying process more self-sufficient, whereas traditional consumers are driven more by cost and ease of use.
According to a November 2018 study from AllianceData, a majority of the consumers surveyed said they want more control over email frequency and the content they receive from brands. Meanwhile, just a small number of marketers said they are meeting those needs.