Email
---
No email marketer wants to see an unsubscribe. And even with providing post-unsubscribe check boxes to gather user feedback, motivations aren't always clear.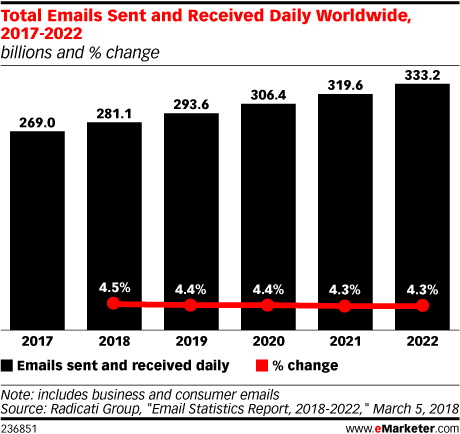 Marketers are evolving their email efforts beyond blast messages in the wake of GDPR and other tech challenges.
Stephen Driscoll, vice president of marketing at AARP, discusses why email has remained relevant for marketers in today's fast-paced digital world.
With the rise of social media and texting, some saw email as a communication vehicle that would eventually disappear. But according to a June 2018 Adobe survey of US internet users, personal email usage was up 17% over 2017.
According to a new survey, email's value as a retail marketing tool is not lessening among younger consumers.
Opens and clicks are important metrics to measure how email as a channel is performing, but it's only part of the story. Topics in this webinar include: Why marketers still rely on email as a solid-performing channel; What email performance benchmarks are most critical to marketers today; How big data and real-time optimization tactics are helping practitioners ensure emails are relevant to their end user; What emerging email practices businesses are adopting, such as interactive email and predictive content.
In the latest episode of eMarketer's "Behind the Numbers" podcast, Minibar Delivery's Lauren Henderson talks about the company's email marketing efforts and what the company does to stand out in a crowded inbox.
Email remains an extremely reliable and popular way for brands to communicate with their audience, with an enviable return on investment. Though there are few signs of adoption waning, many marketers are working to head off future problems of relevancy by embracing sophisticated data practices and emerging technologies.
Jessamyn Block, director of marketing at smart jewelry company Ringly, explains how email marketing helps the brand retain customers.
Amanda Tolleson, CMO at Birchbox, shares how the company uses email marketing to connect the digital and physical aspects of its business.