Email
---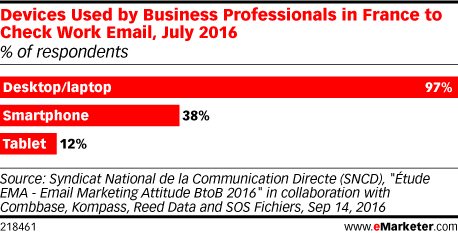 More professionals in France check work email via desktop and laptop computers during most of the day, but before and after office hours, smartphones take over, according to July 2016 research. These mobile professionals are always on.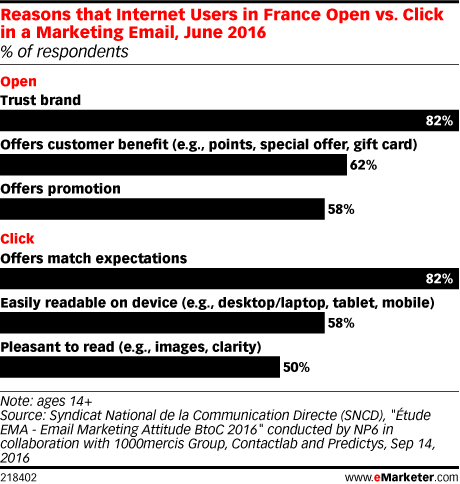 What's the easiest way to get a marketing email opened by recipients in France? Be a trusted brand. It also helps to offer benefits and promotions in line with consumer expectations.
Jim Schuh, director of digital marketing at indoor water park Great Wolf Resorts, discusses how the brand uses data to boost customer acquisition efforts.
US email marketers are having increasing success with mobile devices compared to the desktop. According to August research, mobile devices were driving more email clicks, orders and revenues in Q2 2016 than a year earlier.
Nicole Oliver, director of brand experience at US online eyewear retailer Coastal.com, talks about how the company built an email marketing strategy that is personalized to each recipient.
Only about one-third of US retail email list subscribers have actually made a purchase from the retailer whose email they subscribed to, according to industry data. Many have made just one purchase from that retailer, suggesting inboxes may be cluttered with unwanted retailer offers.
For nearly a third of retailers, the average customer makes a purchase within the first 48 hours of signing up for marketing emails, June 2016 research found. And for approximately a quarter more merchants, customers first buy within a week of email signup.
For most small- and medium-sized retailers in the US, email marketing helps with both customer acquisition and retention. And according to March 2016 research, it's far better than any other tactic for both objectives.
Email marketing trends, like fluid hybrid design, are emerging. However, most marketing professionals still use responsive email templates, according to November 2015 research.
The death of email marketing has been prophesied for much of the last decade. At one time spam looked as if it might prove fatal, turning many consumers against email advances from brands. Also, newer forms of digital marketing, such as social media and video, promised a more contextual engagement with consumers.