Email
---

Jennifer Stamper, interactive marketing manager at Extra Space Storage, talks about the brand's acquisition strategy and why email's role in it is growing.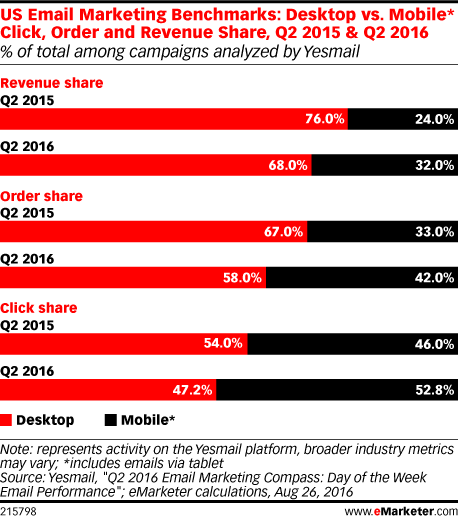 US email marketers are having increasing success with mobile devices compared to the desktop. According to August research, mobile devices were driving more email clicks, orders and revenues in Q2 2016 than a year earlier.
According to July 2016 research, personalization of marketing emails is most commonly the attribute that influences web users in the UK to click. Among the youngest users, however, design may be more of a factor.
Just under half of all marketing emails opened in Australia are opened on a mobile device, according to June 2016 data. Overall, about one in three emails sent are opened.
A solid majority of marketers in the UK use automated email campaigns, including more than half of those among even the smallest companies. At bigger firms, the rate is closer to 90%.
A review of marketing technology adoption habits found email marketing was among the most popular categories of software for marketers worldwide. New capabilities like dynamic content and better personalization, along with longstanding marketer familiarity with the tactic, are helping to keep the dollars flowing.
Retailers are continually relying on email to build a relationship with new and existing customers, and, ultimately, drive sales. But according to November 2015 data, consumers are getting too many emails from retailers.
Tom Tate, product marketing manager at global email services provider AWeber, discusses the value of having a team monitor regional laws to ensure email compliance for clients.
Claire Bara, vice president of marketing at Rona, discusses the issues the company faced after Canada's Anti-Spam Legislation (CASL) went into effect.
Email marketing is huge for retailers, and the first step in the relationship is getting a customer or potential customer's address. According to October 2015 research, the most common place retailers do so is on their websites.