Email
---

Postmates' Tanner McGrath and Appboy's Bill Magnuson discuss how real-time data insights help improve broad marketing campaigns both immediately and in the long term.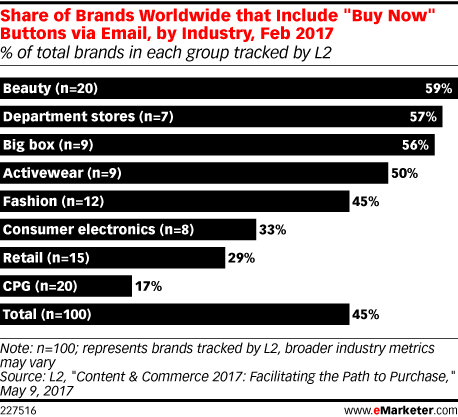 Less than half of brands include a "buy now" button of some sort in their email campaigns, missing a chance to convert shoppers who may have left items in a cart without completing a purchase.
Finding the right message depends on the business goal
Engaging the customer without flooding their inbox
Email marketing—a marketing mainstay—only works when it is not abused. Research shows that US internet users are most likely to unsubscribe from email lists because they get too many emails.
Rajiv Doshi, director of digital marketing at pickled vegetable company Mezzetta, discusses how the brand is pushing past vanity metrics to more effectively measure the success of its influencer marketing campaigns.
Other message types may be buzzier, but one-size-fits-all email newsletters continue to be the backbone of marketers' email efforts. There's a good reason for that: They work.
Digital video has been among the fastest-growing ad formats for the past several years, and digital video viewing has only become more popular among consumers. It's unsurprising, then, to see email marketers getting on board with video. According to research, they tend to rely on animated GIFs to get their messages moving.
What's the easiest way to get a marketing email opened by recipients in France? Be a trusted brand. It also helps to offer benefits and promotions in line with consumer expectations.
An email reminder to shoppers who have abandoned their online cart can be the catalyst to a quicker conversion. But what's the right timing?</p>