Email
---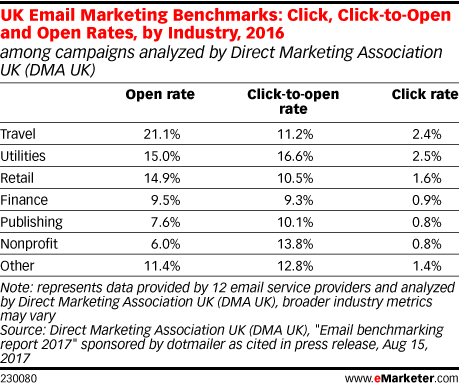 Email marketing open rates in the UK were high in 2016, but clickthrough rates fell—possibly due to the absence of engaging content.

Jessamyn Block, director of marketing at smart jewelry company Ringly, explains how email marketing helps the brand retain customers.
Sandro Roco, director of strategic initiatives for subscription clothing delivery service Bombfell, discusses the role customer input plays in personalization.
Less than half of brands include a "buy now" button of some sort in their email campaigns, missing a chance to convert shoppers who may have left items in a cart without completing a purchase.
Email appears to be the medium of choice for messaging with retailers among UK internet users who communicate regularly with brands.
Internet users of all ages in Germany are surprisingly similar in the ways they interact with retailers via email.
Marketers think great content and a good reputation make for effective mailings. Consumers see it differently.
Email is a dependable method of marketing communication in many markets, including Indonesia. More than three in 10 email users there reported that getting promotions from retailers was one of the main reasons they checked their email.
Retailers haven't cracked the code on email marketing. The volume of mail they send keeps rising, but KPIs are not following suit.
Younger millennial email users are more hit or miss than older US email users when it comes to opening marketing emails, with larger percentages either always or never opening those messages.