Media Buying
---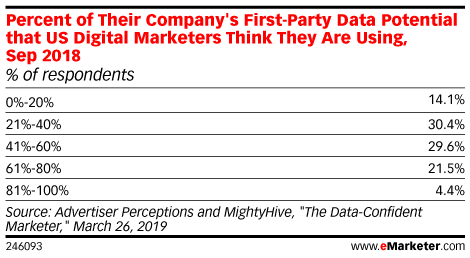 Advertisers crave first-party data, but they often struggle to make the most of it. In a survey of US digital marketers by Advertiser Perceptions and programmatic agency MightyHive, respondents said they were, on average, tapping into just 47% of their company's first-party data potential.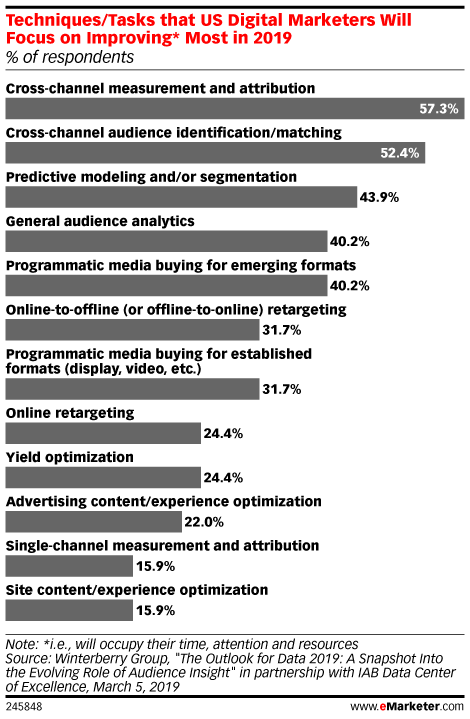 One way marketers can get a more clear view of their customer's journey is by creating a data warehouse that centralizes marketing data across various channels, said Chris Wexler, senior vice president of media and analytics at ad agency Cramer-Krasselt.
Brands are auditing their agencies to verify how their businesses operate, but some agencies have pushed back against audits. Ali Plonchak, managing director of digital strategy and integration at ad agency Crossmedia, said that agencies should embrace audits because they facilitate transparency, which brand clients demand more of.
The push for more effective ad targeting remains one of marketers' chief occupations. More than half of client-side marketers surveyed by Econsultancy and Adobe said leveraging data for more effective segmentation and targeting is among their top three organizational priorities this year.
Newspapers and magazines have seen declining print revenues for years and hoped digital would make up for those losses. But even as the US digital ad market will grow by 19.1% this year to $129.34 billion, newspapers and magazines aren't seeing increases nearly that big.
This year, US advertisers will spend two-thirds of their digital budgets on mobile placements. Mobile ad spending has taken the majority of digital spending every year since 2015, and both search and display spending skew heavily mobile. But, even though it falls under the display umbrella, video is the only digital ad format where more ad dollars are still spent outside mobile channels.
Reddit may be a small digital ad player, but it has an audience too unique to ignore. In today's eMarketer Daily Forecast, senior forecasting director Monica Peart explains why advertisers are interested in reddit and how many users we expect the social platform to reach. Tune in.
Apple is expanding its digital media presence at a time when iPhone sales have slowed. Earlier this week, Apple unveiled several new media products, including a subscription news app, gaming platform and video streaming service.
Following a cleanup of its platform and revamped ad model, online social blog reddit is on pace to more than double its ad revenues by 2021. reddit's ad business will grow nearly 55%, crossing the $100 million mark this year, according to eMarketer's latest US ad forecast.
Identifying the best channel metrics that align with companywide key performance indicators is a challenge at a time when marketers are overloaded with data and their companies are questioning those results.