Media Buying
---
eMarketer senior forecasting analyst Oscar Orozco breaks down our UK digital ad spending numbers by industry and reasons why the region's ad market is fundamentally stronger than others. Watch now.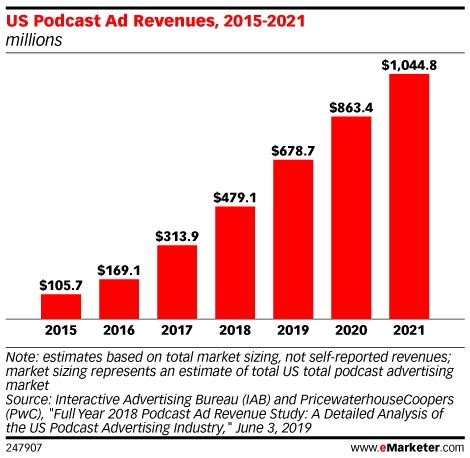 The podcasting industry continues to explode with potential for advertisers, and the numbers show it: Marketers spent $479 million on podcast ads in 2018, and podcast advertising revenues are projected to surpass $1 billion by 2021, according to figures from the Interactive Advertising Bureau (IAB) and PwC.
eMarketer vice president of content studio Paul Verna discusses YouTube's changes to video suggestions. He also explores the popularity of hearables vs. smartwatches and asks: "When it the perfect time to send an email?"
Time spent with digital media in Canada has surpassed that of traditional media for the first time, and digital ad spending has finally caught up with the changing way in which Canadians are consuming media.
eMarketer principal analysts Lauren Fisher and Nicole Perrin consider whether real-time bidding in advertising markets is compatible with the terms of the EU's General Data Protection Regulation. They also discuss the effectiveness of social media ads, Walmart's use of AI cameras to curb retail theft and Roku's robust sales of streaming devices in Q1 2019.
The appeal of traditional media with consumers in Germany is still strong compared with the rest of Europe, despite our estimates that time spent with media there will begin to plateau next year.
eMarketer senior forecasting director Monica Peart shares our revised ad spend for addressable TV in the US and why connected TV may be grabbing a larger share of dollars. Watch now.
eMarketer senior forecasting analyst Cindy Liu breaks out our digital ad spend numbers for the retail sector, including mobile and search, where growth did better than the overall average. Watch now.
eMarketer director of forecasting Shelleen Shum shares our latest ad spend numbers for travel, including estimates into 2020. Watch now.
eMarketer senior forecasting director Monica Peart breaks out our ad spend numbers for the auto and financial services industries and explains why one has gained over the other. Watch now.