Sports
---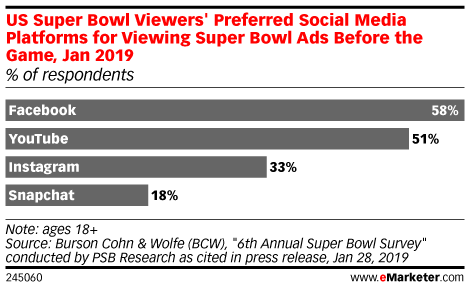 How many Americans tuned in to watch this year's Super Bowl? How engaged was the audience via digital and social? In the latest episode of "Behind the Numbers," Paul Verna, principal analyst, digs into the data for the low-scoring game.
In 2018, esports captured the attention of nearly 400 million viewers worldwide—and cable and OTT platforms took note, with media rights revenues topping $180 million.
"Behind the Numbers" continues its weeklong investigation of sports streaming around the world with a discussion of Europe's major markets. What platforms and programming are most popular in the UK, France and Germany, and how large are their audiences?
In the latest episode of "Behind the Numbers," we continue our series on sports streaming around the world. This time, guests Paul Briggs and Paul Verna discuss the audience, content, platforms and marketing opportunities in streaming sports in Canada.
eMarketer's "Do You Have a Second?" is a mini-podcast that offers a quick hit of the latest digital data. Today, we're talking about Super Bowl ads, Nielsen and Google's new cross-device measurement deal, and 5G smartphones.
With the NFL kicking off the 2018 season, we're talking about fantasy sports on "Behind the Numbers." How many Americans play fantasy sports? Why do they play? And what are the different spending habits of fantasy players?
Around the world, the 2018 FIFA World Cup will be watched via streaming, social and mobile, and through a virtual reality 360-degree VOD experience.
In the latest episode of "Behind the Numbers," analyst Paul Verna talks about the use of emerging technologies in the 2018 Winter Olympics telecast.
Watching other people play video games is one of the internet era's more unlikely pastimes. But both awareness and viewership of esports are growing in the UK.
Amazon's entry into sports broadcasting will expand later this month with a plan to stream live, audio-only coverage of Germany's top two professional soccer leagues.