Media & Entertainment
---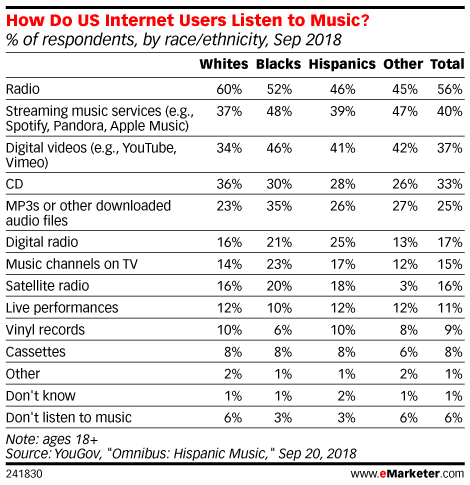 In the latest episode of "Behind the Numbers," we're digging into the data behind the Grammy Awards. What do the audience trends suggest for the future? How are shifting TV audience trends affecting the awards show and are political controversies driving interest or leading viewers to opt out?
That's the date the International Bureau of Weights and Measures has designated as the transition to a new definition of the kilogram. What does the kilogram have to do with TV ad measurement? It illustrates the need to update old standards to reflect new technologies and user behaviors.
Smart glasses, like Google Glass, failed in the consumer space but are finding success in workplaces.
Fragmented and rudimentary measurements prevent more brands from buying in to podcasts. However, some of these issues may improve as ad standards emerge.
It's awards season in Hollywood, but one of the frontrunners for best picture almost didn't get a theatrical run at all. In the latest episode of eMarketer's "Behind the Numbers" podcast, we talk with Principal Analyst Paul Verna about how movies will be watched in the future.
Podcast ads are a rising format for B2Bs, and some are finding success by using podcasts as a driver of direct buyers.
In the latest episode of eMarketer's "Behind the Numbers," analysts Gerard Broussard and Paul Verna discuss the reasons ad spending on advanced TV is growing—and why it still hasn't fully taken off yet.
Just like their younger cohorts, Gen Xers are shifting their viewing habits from traditional TV to digital video.
This year, 64.8 million millennials will watch digital video at least once a month, according to eMarketer estimates. That figure will continue to increase year over year, reaching 66.8 million by 2022.
A lot of companies in the ad industry hope to profit from the digitalization of TV. But as with any big change, uncertainty creates some fear.