Media & Entertainment
---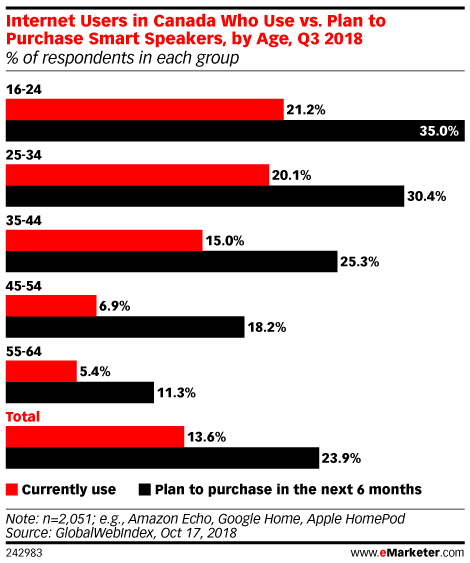 In the latest episode of "Behind the Numbers," analyst Paul Briggs discusses three key developments he predicts will have an outsized impact on media, marketing and technology in Canada next year.
In the latest episode of eMarketer's "Behind the Numbers," analysts Gerard Broussard and Paul Verna discuss the reasons ad spending on advanced TV is growing—and why it still hasn't fully taken off yet.
The podcast ad market is taking off as people increasingly tune in. But large brand advertisers still want better measurement and analytics before they really buy in.
While kids are not likely to own a smartphone or have a large social media presence, video dominates their digital activity.
Spotify will see double-digit growth in 2018, according to eMarketer estimates. We expect 58.4 million people in the US to use Spotify, which represents 20.8% of internet users. This and other digital trends are included in this year's Global Media Intelligence report. Today, we take a look at the streaming audio market.
This year, we expect 170.1 million people in the US will use a subscription OTT service, like Netflix—making up 60.8% of internet users.
In the final episode of our three-part series on the TV and digital video ecosystem, analyst Paul Verna focuses on the question of content. How much content is being created and who are the leading creators? Can the torrid pace of creation continue, or will it ease up?
Alibaba's Singles' Day, China's massive ecommerce festival held annually on November 11, has grown to surpass pretty much every other online shopping event in the world.
Creative professionals would rather work on projects centered around emerging technologies than spending more time coding, according to a recent study.
Joshua Dyck, professor and co-director of the Center for Public Opinion at the University of Massachusetts Lowell, discusses why esports has drawn so many teens, and how advertisers can insert themselves into the gaming community.