CPG
---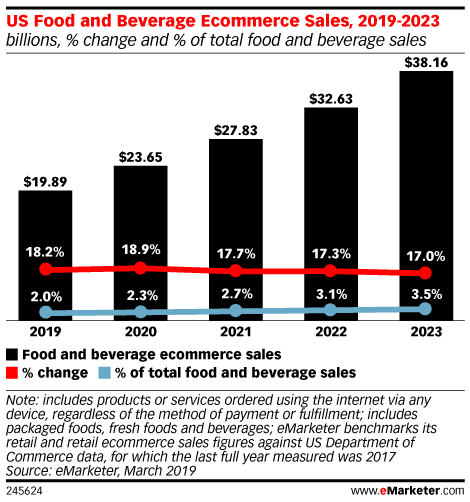 The online grocery market is starting to reach an inflection point, but in order to achieve success, retailers must overcome key logistical hurdles.
Amazon retired its Dash button in early March, but the branded device's end wasn't a failure. We see it as a move to shift more replenishment buying into voice commerce.
The consumer packaged goods sector faces tough hurdles in 2018, as consumers hunt for discounts, buy more private labels and opt for fresh food choices.
In the latest episode of "Behind the Numbers," Andrew Lipsman, principal analyst at eMarketer, details the emergence of digitally native consumer brands and how they developed so much heft in a relatively short period of time.
In this special webinar panel of eMarketer analysts you'll learn the market forces changing the ways consumers shop for consumer packaged goods, and the drivers affecting how CPG companies sell to consumers.
Food delivery, common in urban areas where population is dense and car ownership is low, is expanding to the suburbs and beyond thanks to the rise of digital services connecting users to restaurants.
Online grocery sales are reaching a tipping point, a fact that was a given at the inaugural Groceryshop conference held this week. Overall themes of digital transformation and the power of the consumer emerged while Amazon was mentioned less often than you might think.
Despite ups and downs in the subscription commerce segment, it's still a subject of great interest in the retail industry. Most brands that started online and direct to consumer have expanded to retail channels, either through partnerships or acquisitions.
According to a new survey from Fetch, more than four in 10 consumers say have ordered food to go while on their daily commute.
US spending on pet care continues to rise. Why? Pet food trends follow human fancies, which means a growing focus on wellness that has extended to furry members of the family.