Restaurants & Dining
---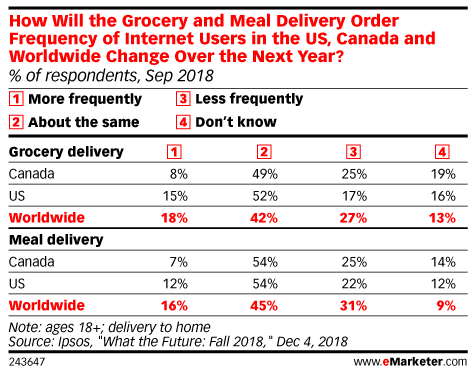 Food delivery, while once niche, is becoming more mainstream. This year saw the explosion of fast food giants like McDonald's and Burger King going all-in on digital ordering and delivery through partnerships with UberEats and Grubhub, momentum that's certain to continue throughout 2019.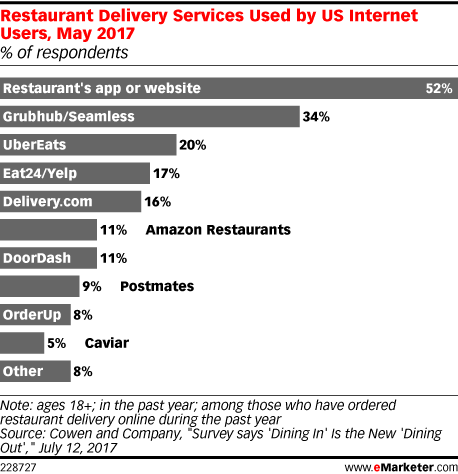 Food delivery, common in urban areas where population is dense and car ownership is low, is expanding to the suburbs and beyond thanks to the rise of digital services connecting users to restaurants.
So far, China and the US have matched each other tit-for-tat in the growing trade war. Both countries have imposed tariffs on $50 billion worth of goods, with the US threatening an additional $200 billion and China another $60 billion on 5,207 products.
You may think nothing of a box of frozen White Castle sliders or a Taco Bell dinner kit in the grocery aisle—fast-food signature dishes that shoppers can re-create at home. Yet Chick-fil-A's announcement on Monday that it will begin testing meal kits is something different altogether.
As in many industries, there is a gap between consumer expectations and business execution for restaurants. Operators are often slow to adopt new technologies and those that they've implemented aren't always satisfactory. A February 2018 survey by BRP and Windstream Enterprise found that restaurant operators met consumer expectations on only two factors: mobile payments and free Wi-Fi.
Mobile checkout is shaping up to be a big theme in 2018, but some restaurants are implementing digital kiosks in addition to offering mobile ordering apps. It's just one more option for customers to choose from in an increasingly consumer-focused world.
Ordering meals is much more common among younger consumers, a survey finds, but even they don't do it too often.
Bareburger and La Colombe aren't household names like McDonald's and Starbucks, but these niche brands are strong social performers, a new study finds.
Restaurants struggled in 2017 as high menu prices kept many diners away. Here's what they learned, in three charts.
The restaurant industry continued to see traffic declines in November, according to new data from TDn2k, while same-store sales were essentially flat, signaling that the industry hasn't really stemmed a long decline.