Restaurants & Dining
---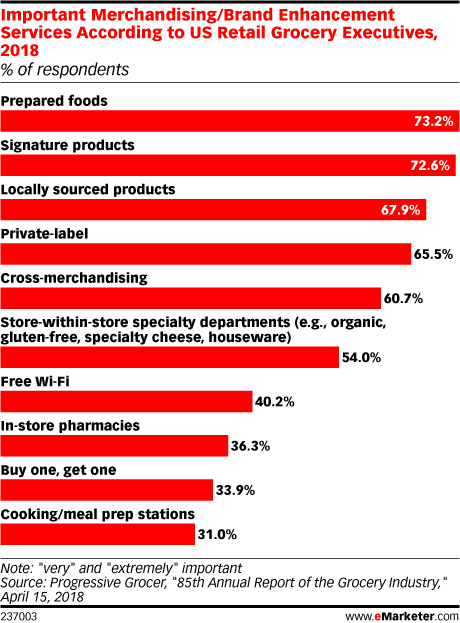 Are consumers eating out more frequently or are they preparing more meals at home? According to new NPD Group data, over 80% of meals were prepared and eaten at home in 2017. US consumers dined out 185 times last year, down from the 2000 peak when that figure was 216.
So far, China and the US have matched each other tit-for-tat in the growing trade war. Both countries have imposed tariffs on $50 billion worth of goods, with the US threatening an additional $200 billion and China another $60 billion on 5,207 products.
Thanks to the proliferation of on-demand services, digital food delivery is easier than ever. Depending on where you live, you might have multiple options for online ordering: Caviar specializes in local restaurants that wouldn't necessarily deliver otherwise, Grubhub is adding quick-service partners like Subway and White Castle, and McDonald's uses UberEats.
Katherine Debicki, senior marketing manager of media, digital and ecommerce at KFC Canada, discusses how the brand is looking beyond demographic boxes to target millennials based off their interests.
Fewer people say offerings like online ordering and digital menus influence where they're going to eat, according to a recent study from consulting firm AlixPartners.
TV spots and print coupons are commonplace in the restaurant industry, and consumers are accustomed to—and even prefer—those types of promotions.
More consumers are turning to technology to help them figure out where and what to eat.
The restaurant industry may be at the point of finally turning the corner after a long slump, but don't look for traditional restaurant solutions to drive the turnaround.
A survey of US internet users found that roughly half have downloaded a restaurant's mobile app. But they're not necessarily using it to pay for food or track an order. Many just want a menu and a discount.
The success of mobile and other digital loyalty programs at Starbucks, Dunkin' Donuts, Panera Bread and Domino's Pizza has caught the restaurant industry's attention. The stakes are high, with customer traffic and sales showing worrisome declines.