Technology
---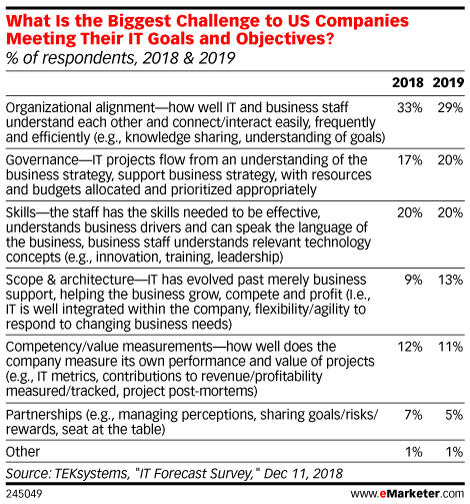 Technology is the means to transformation, not an end in itself. Rigid internal structures impede many organizations' digital transformation efforts.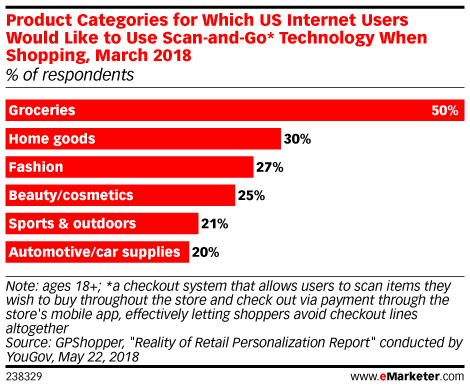 Cashierless stores, like Amazon Go, have great potential to shake up the brick-and-mortar landscape. According to GPShopper, 48% of US internet users believe scan-and-go technology would make shopping easier. And 43% would rather try scan-and-go than wait in a checkout line.
Smart glasses, like Google Glass, failed in the consumer space but are finding success in workplaces.
Retail executives and consumers in the US, the UK and Australia have widely disparate expectations about artificial intelligence's (AI) and virtual reality's (VR) effects on the retail sector
A lot of companies in the ad industry hope to profit from the digitalization of TV. But as with any big change, uncertainty creates some fear.
Emerging retail tech straddles the line between utilitarian and useless. Improving the customer experience is usually the end goal but when it's implemented just for the sake of showing off, consumers don't always find it useful. According to a June 2018 JDA Software survey, consumers were receptive to the idea of retail tech.
What once sounded fantastical—stores where shoppers could walk out with purchases without waiting in line—is becoming a reality for more than a select few.
Ben Gaddis, president of ad agency T3, spoke with eMarketer's Caroline Cakebread about what's possible with AR today, and how marketers can best utilize it to create revenue generating experiences.
Retailers have been implementing in-store tech and omnichannel options to meet the perceived demands of the modern shopper. A recent RIS News survey found many US internet users are interested in shopping options like "grab and go" technology, while fewer were keen on virtual reality or robots.
Ted Dhanik, CEO and co-founder of ad tech firm engage:BDR, spoke about how publishers can use cryptocurrencies to get paid faster.