Advertising & Marketing
---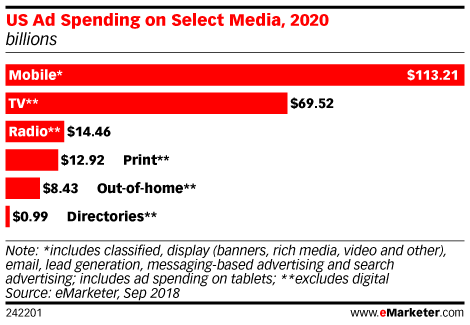 This year, mobile will surpass TV ad spending by more than $6 billion, according to our latest ad spending forecast. By 2020, the channel will represent 43% of total media ad spending in the US—a greater percentage than all traditional media combined.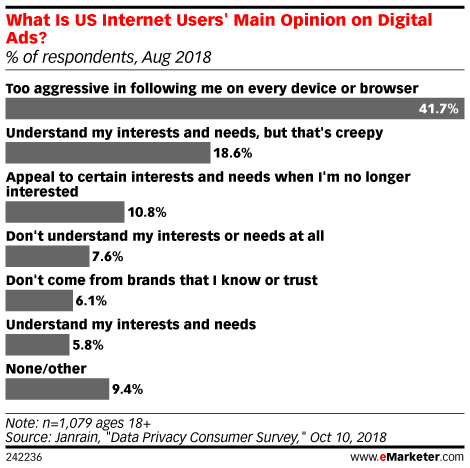 Invasive and retargeted ads are turning some people to ad blocking. Surveys indicate that users are increasingly finding digital ads to be too intrusive.
Marketers continue to struggle with how to best credit a purchase, and the challenges in fixing this issue are not primarily technological.
This year will mark a milestone for digital video advertising in the US, according to eMarketer's latest ad spending forecast. In 2018, video will grow nearly 30% to $27.82 billion. That means video ad spending will make up 25% of US digital ad spending.
Agency executives tell eMarketer about why consumers got ahead of advertisers on digital.
Recent improvements in computer-vision technology have finally made this dream a reality, and the biggest technology companies, including Pinterest, Google, Amazon, Microsoft and eBay, now have visual search tools.
Do brands live up to their promises to consumers? Much of the time, the answer is no, and a recent study suggests that the ramifications of that can be very bad news for brands that fall short of expectations.
Political ad spend estimates have been revised higher amid an increasingly contentious election season. TV broadcasters will win many of these added dollars, moderating a longer-term downward revenue trend.
In the latest episode of eMarketer's "Behind the Numbers" podcast, we dig into a variety of data about news consumption on social properties. How many people get their news on social? And do they trust it?