Advertising & Marketing
---
Corporate social responsibility appeals to millennials—a generation of researchers who value authenticity, transparency and reliability.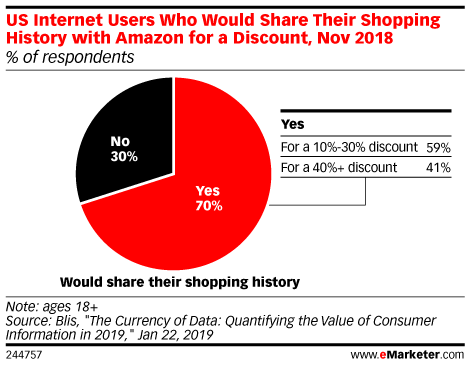 Consumers don't fully trust retailers with their data. But, they'll put their reservations aside for the right price.
Amid prevalent data breaches and growing consumer distrust over personal data, regulators are becoming more stringent on imposing fines for those who violate privacy laws.
In the latest episode of "Behind the Numbers," Andrew Lipsman, principal analyst at eMarketer, details the emergence of digitally native consumer brands and how they developed so much heft in a relatively short period of time.
Smart glasses, like Google Glass, failed in the consumer space but are finding success in workplaces.
Roku, the David to the connected-TV-device Goliaths (Apple, Amazon and Google), is differentiating itself by expanding its advertising business.
In this on-demand Meet the Analyst Webinar, eMarketer senior analyst Mark Dolliver, shares what digital marketers can expect, and insight on how to prepare your strategy for the year ahead. Topics discussed include digital's reinvention of physical retail, voice technology, social media and more.
The ecommerce giant is leveraging its trove of first-party data to help brands target prospective customers with free swag.
With spend on marketing technology increasing, many marketers are investing more dollars into data management products.
The TV and OTT landscapes continue to shift and slide as consumers adopt digital video and streaming options, and the companies producing long-form content make bets on where audiences will spend their time. Here are eight digital video market predictions for 2019.