Advertising & Marketing
---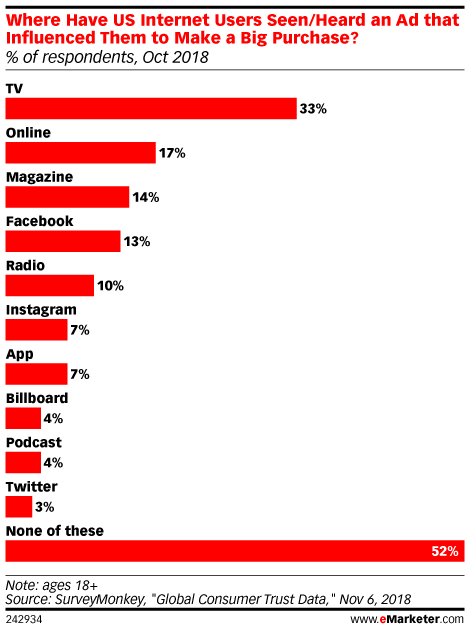 Brand trust has a great deal of sway on purchase behavior, especially when shopping for big-ticket items. According to an October 2018 SurveyMonkey poll, 68% of US internet users said trust in a brand was very influential when making a major purchase.
As America heads to the polls, brands find themselves in a tight spot, with more and more consumers tying their purchases to brands' political stances. In an election day special edition of "Behind the Numbers," we look at the data and what it means for marketers.
Quartile's Daniel Knijik and Alfaparf's Andrea Omodei explain why Amazon is an important sales and marketing tool for brands expanding internationally.
Industry experts weigh in on the magnitude of ad blocking, whether technology can solve the problem and the effects of GDPR.
eMarketer's chief innovation officer Geoff Ramsey recently spoke with Bill Duggan, group executive vice president of the ANA to discuss Amazon, trust and digital creative.
Many believe that the internet of things will transform the retail industry, but fewer are certain in which ways—and how—this will affect their business.
This year, mobile will surpass TV ad spending by more than $6 billion, according to our latest ad spending forecast. By 2020, the channel will represent 43% of total media ad spending in the US—a greater percentage than all traditional media combined.
Undertone's Mike Pallad and Laura Salant discuss the importance of measuring attention in digital ad campaigns.
Marketers continue to struggle with how to best credit a purchase, and the challenges in fixing this issue are not primarily technological.
This year will mark a milestone for digital video advertising in the US, according to eMarketer's latest ad spending forecast. In 2018, video will grow nearly 30% to $27.82 billion. That means video ad spending will make up 25% of US digital ad spending.