Advertising & Marketing
---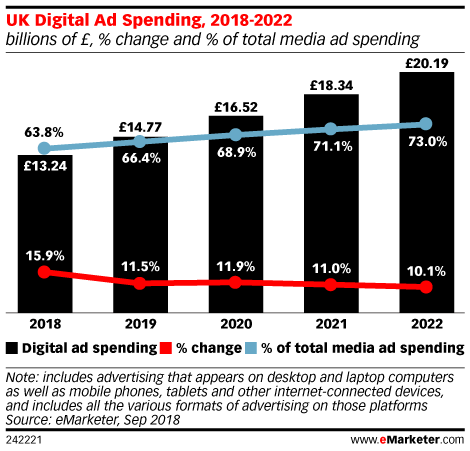 Every few months it seems another story emerges about ad dollars disappearing down a black hole of fraudulent activity. And the spotlight on fraud will shine ever brighter, with good reason. For the UK, we forecast that digital ad spending will reach £13.24 billion ($17.05 billion) in 2018, accounting for 63.8% of total media ad spend.
Many believe that the internet of things will transform the retail industry, but fewer are certain in which ways—and how—this will affect their business.
Invasive and retargeted ads are turning some people to ad blocking. Surveys indicate that users are increasingly finding digital ads to be too intrusive.
John Egan, head of demand, EMEA, at mobile app ad exchange MoPub, a Twitter company, discusses how marketers are continuing to work on cracking the code on in-app programmatic advertising.
Emerging retail tech straddles the line between utilitarian and useless. Improving the customer experience is usually the end goal but when it's implemented just for the sake of showing off, consumers don't always find it useful. According to a June 2018 JDA Software survey, consumers were receptive to the idea of retail tech.
If you think consumers want brands to be neutral on social issues, you would be wrong. Belief-driven buyers—consumers who choose, switch, avoid or boycott a brand based on its stand on societal issues—are the majority in 2018.
Which "reality" are marketers opting for—virtual reality or augmented reality? As the two technologies evolve, adoption patterns differ. VR remains largely rooted in the gaming industry, whereas AR is becoming mainstream thanks to a host of technological advances and big-tech backing that makes it accessible on smartphones.
Augmented reality investors, marketers and tech providers weigh in on why the market is ready for AR—and why it's the right time for marketers to make their move.
Ed LaHood, CEO of augmented reality platform Thyng, talks about the state of the AR ecosystem, how it's changing and what that means for marketers.
Marketers say that users' fragmented media consumption is disrupting their TV advertising approach.