Advertising & Marketing
---
More than 35 million Americans are enhancing their social media experiences with augmented reality (AR), according to our estimates. In today's "eMarketer Daily Forecast," forecasting analyst Showmik Podder provides a quick look at AR usage among US social network users. Tune in.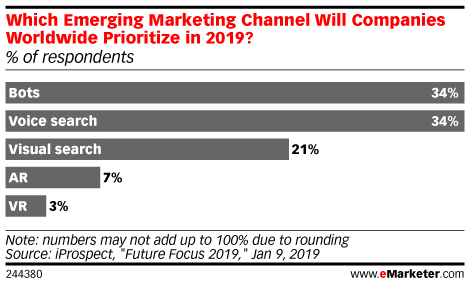 In the latest episode of "Behind the Numbers," eMarketer principal analyst Andrew Lipsman talks about the vast array of visual search tools out there, including eBay's latest entry into the emerging landscape.
Pandora may be the most popular music streaming service in the US, but it won't retain the No. 1 spot for much longer. According to our latest forecast on digital music listeners, Spotify will surpass Pandora in terms of users by 2021—one year sooner than we predicted last year.
Hulu's decision to reduce the price of its most affordable, ad-supported plan will help bring more users—and more ad dollars—to the popular streaming platform.
Competitive video gaming is a rapidly growing, multibillion-dollar industry, presenting new opportunities for marketers to reach and engage with fans. Esports ad revenues are poised to surpass $200 million by next year, according to eMarketer's first forecast on esports and gaming revenues.
Social video ad spending in the US will reach $14.89 billion in 2021, growing 44% from 2019, according to our latest forecast. It will then account for 30.4% of total video ad spending.
In-store charging stations offer a solutions for brick and mortars desperate to stay relevant.
Half of US internet users have concerns about facial recognition, according to data from The Brookings Institution.
In large organizations, departments are often not designed or encouraged to work together. And the only way to fix this is with the support of top-level management.
We spoke with Grégoire Baret, general manager of omnichannel experience at shoe retailer Aldo, about how his team works in collaboration with IT to roll out a new marketing technology.