Mobile
---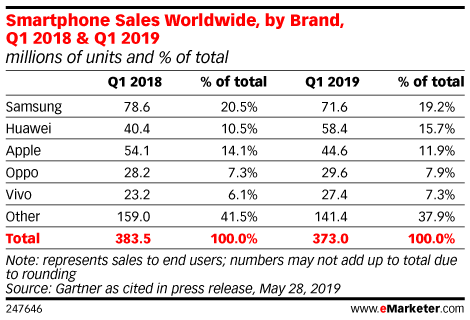 eMarketer principal analyst Yory Wurmser explains why Huawei is rolling out a proprietary open-source operating system, the iPhone sales slowdown, Uber's imminent need to turn things around and how Google is making it easier for users to navigate walking directions with the help of augmented reality.
eMarketer forecasting director Shelleen Shum explores our usage numbers for chat apps in the UK and why WhatsApp is a winner.
Mobile users worldwide downloaded a record 30.3 billion apps in Q2 2019, according to recent data from App Annie. The bulk of these downloads—22.5 billion—were from the Google Play Store, compared with 7.9 billion from the Apple App Store, and the gap between Google Play and the App Store continues to widen. Google Play downloads outpaced those on the App Store by 185% in Q2 2019, up from 170% in Q1.
As of June 2019, there were 1.8 million apps in the Apple App Store, and 3.1 million apps in the Google Play Store, according to App Annie.
According to a March 2019 survey from mobile ad and app monetization company Tapjoy, 69% of US consumers said they would rather give up social media apps or TV than lose their favorite mobile games.
We expect the number of people who own a smartphone and use dating apps to grow 5.3% this year, reaching roughly 25 billion. This figure is much flatter than our previous forecast of 9.8% growth, and just one-sixth of growth in 2016.
eMarketer junior forecasting analyst Nazmul Islam shares our numbers for smartphone news app usage by Americans, which we predict will rebound as the 2020 election gets underway. Watch now.
eMarketer junior forecasting analyst Nazmul Islam shares our estimates on how logistics apps have become the biggest gainers in the US market. Watch now.
Retailers' digital ad spend parallels that of the overall US digital ad market this year, growing 19.1%, according to our latest forecast. For this industry, mobile and search advertising dominate ad spend allocation.
eMarketer junior forecasting analyst Nazmul Islam shares our usage numbers for US smartphone dating apps and doesn't dance around the reasons for a slowdown in growth. Watch now.