Mobile
---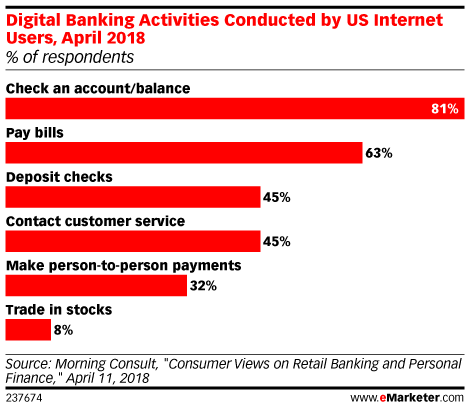 This year, 115.6 million mobile phone users in the US will bank on mobile at least once per month, according to eMarketer estimates.
This year, there will be 82.5 million mobile phone P2P payment users in the US, according to eMarketer estimates.
With data breaches a constant worry, many consumers don't feel too confident in being able to control how their personal data gets used.
In the latest episode of "Behind the Numbers," analyst Yory Wurmser highlights the ways that maps have become integral to the smartphone experience. He breaks down key map ad formats and discusses some of the challenges of working with map platforms.
When it comes to push notifications, getting the opt-in right can make a crucial difference between driving in-app conversions and getting shut out by users.
Push notifications have been around long enough that app users know the good from the bad. But marketers are still looking for that sweet spot where they can deliver value to users without invading their privacy or over-messaging.
In the latest episode of "Behind the Numbers," forecasters Showmik Podder and Chris Bendtsen break out data from eMarketer's new estimates for mobile payments usage. How many people around the world use mobile phones to make payments? Where are mobile payments the most common? Why would anyone want to pay via phone, anyway?
In this eMarketer Analyst Webinar, Yory Wurmser, eMarketer principal analyst, examines advertising and marketing opportunities in the major map and navigation apps.
In China, mobile payments have made large inroads thanks to rapid smartphone adoption and the absence of alternative payment methods.
India is home to the world's fastest growing proximity payment market. According to eMarketer estimates, adoption is projected to jump nearly 40% this year.