Mobile
---
India is home to the world's fastest growing proximity payment market. According to eMarketer estimates, adoption is projected to jump nearly 40% this year.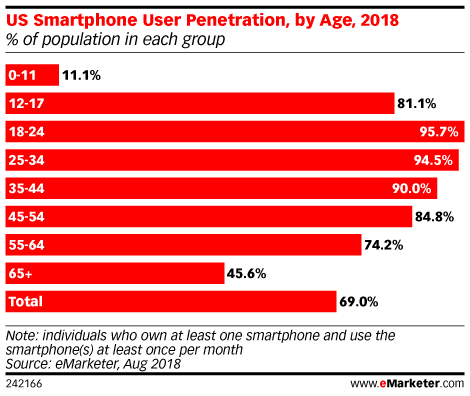 As smartphone ownership becomes the norm among teens, the device dominates their overall digital usage. And even teens themselves wonder whether they use it too much.
John Egan, head of demand, EMEA, at mobile app ad exchange MoPub, a Twitter company, discusses how marketers are continuing to work on cracking the code on in-app programmatic advertising.
Arielle Vogelstein, growth principal at Via, talks about Snapchat's advertising potential.
Nancy Inouye, national media manager at Toyota Motor North America, explains why Twitter and Snapchat advertising remain beneficial for the brand.
A May 2018 survey of younger US internet users found that many Gen Zers are using apps like YouTube and Snapchat a lot more than they did a year prior.
Pinterest launched visual search three years ago, and it now sees 600 million visual searches per month. eMarketer's Yory Wurmser spoke with Omar Seyal, head of discovery product at Pinterest, about what the platform has learned about consumer visual search behavior.
Display ads in Messenger's inbox can help brands reach eyeballs, but advertisers should be careful not to overstep their bounds.
From personalized messaging to list health to mobile design, four brand marketers discuss how they are navigating email marketing in 2018.