Mobile
---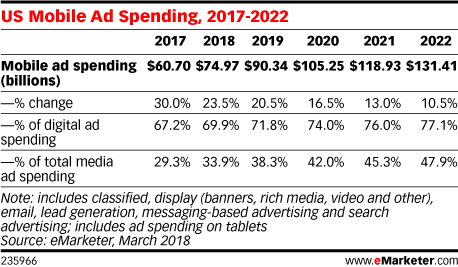 Despite rapid growth, mobile advertising has been hampered by fragmented formats and standards, which limit what marketers can do with the newer and richer types of mobile marketing data available. Improved measurement and transparency is key! eMarketer has curated this Roundup of articles, insights and interviews to help you understand mobile measurement and targeting.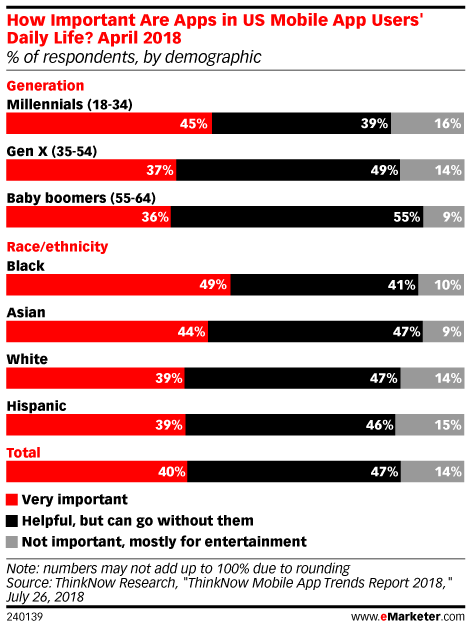 Apps are integral to the lives of four in 10 US mobile app users, yet many think they could survive without them, according to a new survey by ThinkNow Research.
Google's Kishore Kanakamedala explains Store Sales Direct, a product that helps advertisers see if their digital campaigns drove store purchases.
Google Maps and Waze recently introduced new advertising products, meaning in-map advertising is now easier to buy for a wider variety of marketers.
Peter Lenz, senior geospatial analyst at Dstillery, discuss how advertisers are using data from maps to reveal trends and improve ad targeting.
Some consumers don't mind handing over personal information, such as their phone number, in exchange for something in return—like a discount. But if they feel they're getting flooded with too many messages from brands, they'll simply unsubscribe.
Think romance is dead? Think again. While dating apps are relatively commonplace, most people are reluctant to use them.
Consumers have become more comfortable sharing location details, but they're also more choosey about when they share. At the same time, marketers have a better understanding of how to use location data and which data to avoid. eMarketer has curated this Roundup of articles, insights and interviews to help you dig into location intelligence.
Ben Whattam, managing and founding partner of Keko London, explains why luxury brands have to break the mold of traditional marketing.
Even though groceries are still mostly bought in-store, many consumers use digital tools before, during and after a visit to a supermarket. These multiple touchpoints provide opportunities for grocers to engage with shoppers.