Mobile
---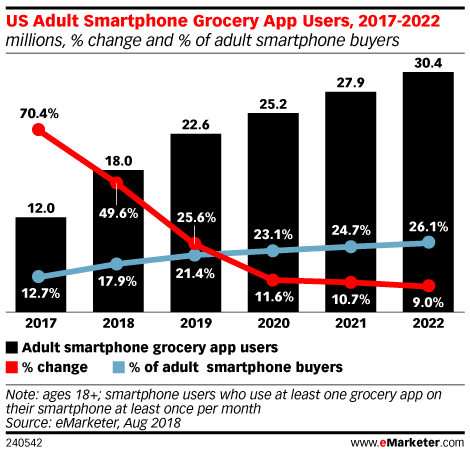 Grocery apps are some of the fastest-growing apps in the US, according to eMarketer's latest app usage forecast. This year, 18.0 million US adults will use a grocery app at least once a month, up 49.6% over last year.
In the latest episode of "Behind the Numbers," eMarketer's Mark Dolliver discusses how teens indulge in too much screen time, and the extent to which they and their parents see this excessive usage as a problem.
Personalized messages, geolocated notifications, loyalty programs—all are available via mobile passes in wallets.
Despite rapid growth, mobile advertising has been hampered by fragmented formats and standards, which limit what marketers can do with the newer and richer types of mobile marketing data available. Improved measurement and transparency is key! eMarketer has curated this Roundup of articles, insights and interviews to help you understand mobile measurement and targeting.
Four years after its purchase by Facebook, WhatsApp is being tasked with a new challenge: Make money. In the latest episode of "Behind the Numbers," analyst Rahul Chadha digs into the messaging market and the monetization strategies being put to the test around the world.
Google's Kishore Kanakamedala explains Store Sales Direct, a product that helps advertisers see if their digital campaigns drove store purchases.
Google Maps and Waze recently introduced new advertising products, meaning in-map advertising is now easier to buy for a wider variety of marketers.
Lauren Sanborn, director of social media at Schafer Condon Carter, discusses the organic ways brands can use social location features to gain exposure.
Anasofía Sánchez Juárez, director general of operations and country manager for Waze in Mexico, explains why more brands are considering advertising in map and navigation apps.
Think romance is dead? Think again. While dating apps are relatively commonplace, most people are reluctant to use them.