Mobile
---
The New York Public Library is getting readers to continually engage with a feature originally intended for expiring content.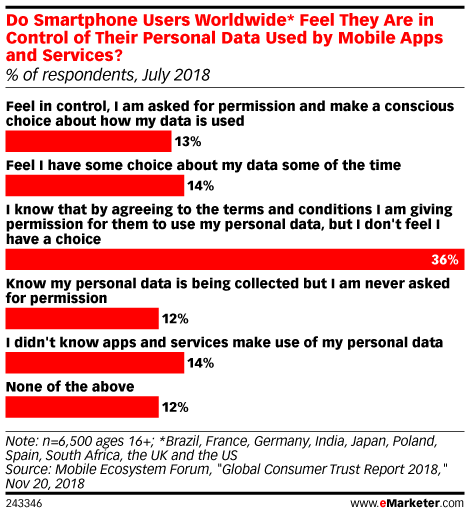 With data breaches a constant worry, many consumers don't feel too confident in being able to control how their personal data gets used.
Fraudsters are trying to make a buck off the ad dollars that flow to mobile. Some research suggests that more than one-quarter of app installs are fraudulent.
Spotify will see double-digit growth in 2018, according to eMarketer estimates. We expect 58.4 million people in the US to use Spotify, which represents 20.8% of internet users. This and other digital trends are included in this year's Global Media Intelligence report. Today, we take a look at the streaming audio market.
Web push notifications seem to be popping up everywhere, and that's the problem. Too often, marketers aren't waiting to demonstrate value before asking for the opt-in.
Every week on eMarketer's "Behind the Numbers" podcast, we take a few minutes to discuss some of the most intriguing headlines of the past seven days. This week, we're chatting about Bitcoin, tech taxes, and a novel you can read on FB Messenger.
The cash culture in Germany is holding back mobile payment adoption in the country. Many people are comfortable paying with cash and don't see any significant benefits to changing their habits, especially older generations.
Mobile payment adoption in the UK isn't as widespread as in other markets, with only 7.2 million people in the country expected to use the payment method this year.
As smartphone ownership becomes the norm among teens, the device dominates their overall digital usage. And even teens themselves wonder whether they use it too much.
Casie Jordan, director of professional services at MoPub, spoke about how app publishers are adjusting the ways they sell inventory programmatically.