Mobile
---
If you're still looking for a holiday gift for a parent or grandparent, a wearable device could be well-received. Americans 55 and older are the fastest-growing group of electronic wearable users in the US, according to eMarketer's latest wearables forecast, largely due to the devices' enhanced health features.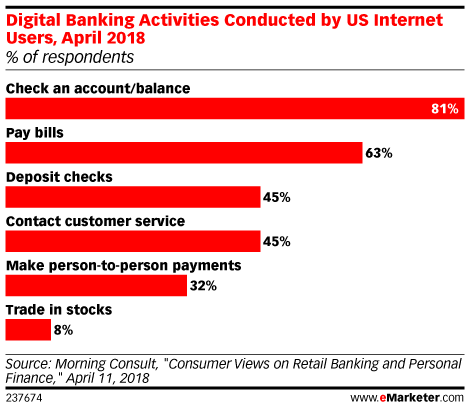 This year, 115.6 million mobile phone users in the US will bank on mobile at least once per month, according to eMarketer estimates.
This year, mobile commerce sales in the US will account for 39.6% of total retail ecommerce sales—reaching $208.1 billion.
The New York Public Library is getting readers to continually engage with a feature originally intended for expiring content.
Fraudsters are trying to make a buck off the ad dollars that flow to mobile. Some research suggests that more than one-quarter of app installs are fraudulent.
When it comes to push notifications, getting the opt-in right can make a crucial difference between driving in-app conversions and getting shut out by users.
Web push notifications seem to be popping up everywhere, and that's the problem. Too often, marketers aren't waiting to demonstrate value before asking for the opt-in.
In the latest episode of "Behind the Numbers," forecasters Showmik Podder and Chris Bendtsen break out data from eMarketer's new estimates for mobile payments usage. How many people around the world use mobile phones to make payments? Where are mobile payments the most common? Why would anyone want to pay via phone, anyway?
In this eMarketer Analyst Webinar, Yory Wurmser, eMarketer principal analyst, examines advertising and marketing opportunities in the major map and navigation apps.
In China, mobile payments have made large inroads thanks to rapid smartphone adoption and the absence of alternative payment methods.