Mobile
---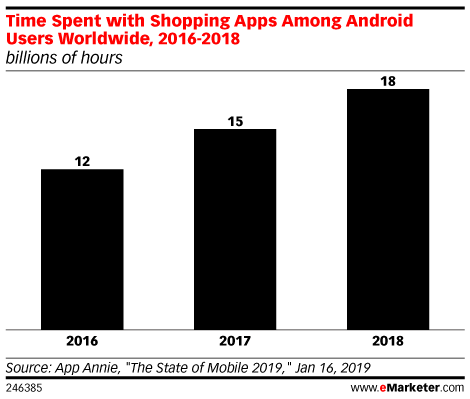 In 2018, total worldwide app revenues grew 63% year over year, according to app commerce company Poq. Additionally, time spent in shopping apps grew 45% from two years prior, per data from App Annie.
Although overall tablet usage will slow to just 2% growth this year, growth among seniors will reach almost 6%, according to our estimates. In today's "eMarketer Daily Forecast," forecasting director Shelleen Shum looks at tablet usage among seniors. Tune In.
In the latest episode of "Behind the Numbers," eMarketer principal analyst Nicole Perrin discusses Amazon's newest inventory for advertisers, and how consumers might react.
Snapchat has been busy lately trying to woo marketers. While we predict that Snapchat will cross $1 billion in US net ad revenues in 2020, reaching this milestone took longer than anticipated.
Earlier this month, Philadelphia passed a bill rendering cashless stores like Amazon Go and Sweetgreen illegal and banning future establishments from completely abandoning cash. By July 2019, most retailers in the city will be required to offer consumers a cash payment option.
While iPhone sales have been lackluster in some overseas markets, Apple's smartphone continues to gain users in the US. According to our latest forecast, the iPhone's user base ticked up 5.0% in 2018 and will grow another 3.2% this year.
Every Mobile World Conference has phone releases, but some of the phones released this week in Barcelona represent the first batch that will run on 5G, the next-generation telecom network that promises faster speeds and quicker responses.
The 2018 retail holiday season was exceptionally strong, with the highest growth rates for brick-and-mortar and ecommerce sales since 2011. Online spending performed noticeably better than the industry's already optimistic expectations.
On the latest episode of "Behind the Numbers," we look at the latest smartphone models and anticipate when 5G will finally arrive.