Marketing Technology
---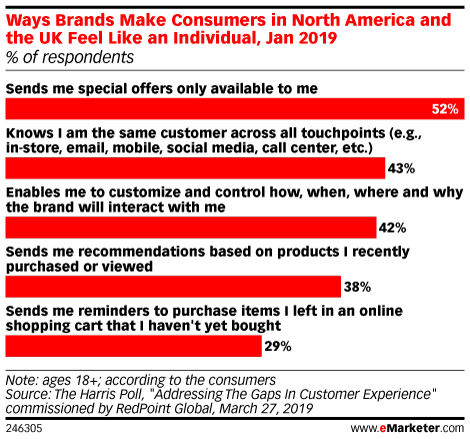 According to a November 2018 study from AllianceData, a majority of the consumers surveyed said they want more control over email frequency and the content they receive from brands. Meanwhile, just a small number of marketers said they are meeting those needs.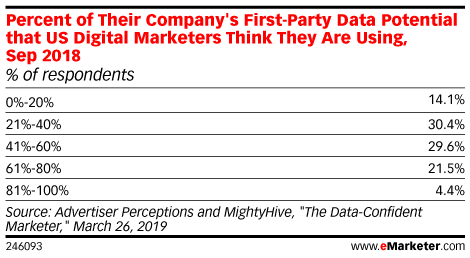 Advertisers crave first-party data, but they often struggle to make the most of it. In a survey of US digital marketers by Advertiser Perceptions and programmatic agency MightyHive, respondents said they were, on average, tapping into just 47% of their company's first-party data potential.
Government regulation is the top obstacle threatening marketers' data projects this year, according to a recent survey of US marketers by Winterberry Group and the Interactive Advertising Bureau (IAB).
Identifying the best channel metrics that align with companywide key performance indicators is a challenge at a time when marketers are overloaded with data and their companies are questioning those results.
Data science and analytics will be the technical skills most needed at ad agencies in the next two years, according to a poll by Marketing Land.
Companies may know that more advanced attribution practices are needed to prove marketing value in today's complex media world, but that doesn't mean they understand, or easily embrace, these practices.
We spoke with Grégoire Baret, general manager of omnichannel experience at shoe retailer Aldo, about how his team works in collaboration with IT to roll out a new marketing technology.
In a poll conducted by ad measurement firm Integral Ad Science (IAS), 69.0% of agency executives say that fraud is the biggest hindrance to ad budget growth, compared with more than half (52.6%) of brand professionals who said the same.
Some marketers turn to data scientists as they look to improve their ad measurement and digital attribution capabilities.
One of the biggest trends in advertising this year will be consumer privacy and security concerns, which has forced marketers to get their data houses in order.