Marketing Technology
---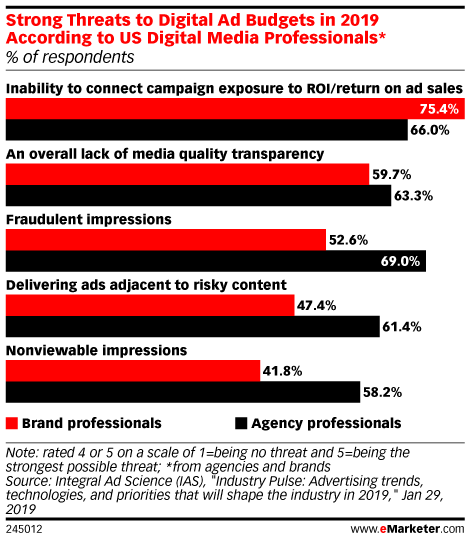 In a poll conducted by ad measurement firm Integral Ad Science (IAS), 69.0% of agency executives say that fraud is the biggest hindrance to ad budget growth, compared with more than half (52.6%) of brand professionals who said the same.
Training an artificial intelligence (AI) algorithm requires data—lots of data. But staying GDPR-compliant while acquiring that data can be almost impossible.
One of the biggest trends in advertising this year will be consumer privacy and security concerns, which has forced marketers to get their data houses in order.
As use of AI grows (27% of executives in a PwC study have already implemented AI), so do calls for ways to interpret how AI models make decisions. This has given rise to a new buzzword: explainable AI, which refers to algorithms that make decisions humans can explain. PwC, for example, says it "integrates risk mitigation and ethical concerns into algorithms and data sets from the start."
Data privacy battles are heating up now that a group of US senators are asking regulators to investigate how telecom firms are selling people's location data.
For blockchain to have an impact on ad fraud, all parties to a programmatic transaction must agree to use it—and use the same system. Thus, adoption has been limited.
Amid prevalent data breaches and growing consumer distrust over personal data, regulators are becoming more stringent on imposing fines for those who violate privacy laws.
Artificial intelligence is no longer just a buzzword, and hefty investments signal that stakeholders are planning to ramp up efforts in 2019.
Advertisers are investing in products that help them accurately identify the audiences they plan to target. In recent years, a few ID consortiums launched to give advertisers an audience identification alternative to the Facebook-Google duopoly.
Marketers rely heavily on third parties for analytics and technology building. Many are looking to trim their overall vendor counts when it comes to demand-side platforms and supply-side platforms, but are looking for new partners for customer data platforms, while others are building their own tech in-house.