Marketing Technology
---
In the latest episode of "Behind the Numbers," ad tech expert Lauren Fisher and digital advertising specialist Nicole Perrin talk with Neustar's vice president of marketing solutions, Michael Schoen, about the deterministic data misconception.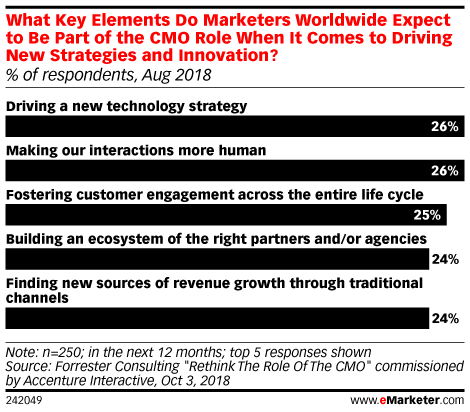 According to a new study, CMOs will likely pay more attention to technology strategies and making their interactions more human in the next year.
Ryan Fagan, director of sales and operations planning at Lowe's, spoke about how the home-improvement brand overhauled the way it verifies which customers are eligible for discounts.
Emerging technologies may ease struggles that businesses have with analytics.
Andy Sriubas, chief commercial officer at Outfront Media, discussed how 5G technology will make digital out-of-home advertising more dynamic.
Marketers say that users' fragmented media consumption is disrupting their TV advertising approach.
Ad tech vendors are trying to make bank from the digitization of TV advertising.
Customer experience has become one of the biggest areas of business focus across industries. One way that adds value to a consumer's shopping journey is authentic, tailored content. eMarketer has curated this Roundup of articles, insights and interviews to zero in on the trends affecting content marketing today—from creation and personalization to brand safety and more.
In a survey of 250 US B2B sales and marketing professionals, about four in 10 respondents said they are novices or beginners when it comes to integrating data into their CRM systems.
Ad professionals block ads at similar rates to the rest of the population.