Demographics
---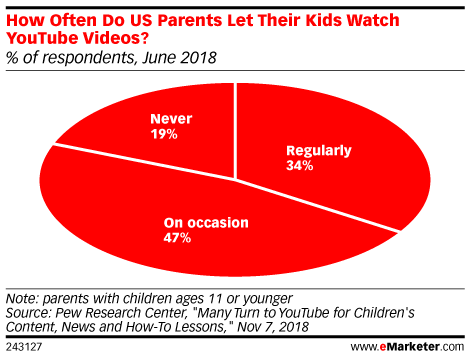 In the latest episode of "Behind the Numbers," the first in a two-part series, eMarketer demographics specialists Mark Dolliver and Jennifer Pearson discuss kids and screens—and how parents approach the mix.
If you're still looking for a holiday gift for a parent or grandparent, a wearable device could be well-received. Americans 55 and older are the fastest-growing group of electronic wearable users in the US, according to eMarketer's latest wearables forecast, largely due to the devices' enhanced health features.
The number of boomers watching digital video on a monthly basis might not be as high as younger generations, but the 37.7 million who will do so this year are more likely to use computers and streaming services than their smartphones.
This year, 64.8 million millennials will watch digital video at least once a month, according to eMarketer estimates. That figure will continue to increase year over year, reaching 66.8 million by 2022.
Every week on eMarketer's "Behind the Numbers" podcast, we take a few minutes to discuss some of the most intriguing headlines of the past seven days. This week, we're chatting about Amazon's controversial HQ2 (er, 3) decision. Plus: Juul's move to quit social, and the rise of the nanoinfluencer.
Store closures are the hallmark of the so-called retail apocalypse, but the demise of brick-and-mortar locations might be more apparent to industry watchers. The average consumer doesn't always pay attention—unless a particular store meant something to them.
Even with the ubiquity of digital buying, the in-store shopping experience continues to have importance. And even more so with younger consumers.
Buying store brands used to be viewed as sacrificing quality for price, but post-recession private labels began flourishing and have gained popularity with retailers and consumers over the past decade.
Younger Gen Xers and older millennials behave similarly when it comes to smart speakers. Like millennials, Gen Xers are also early adopters of the technology, though at a slightly lower level.
Kids and teens may not be old enough to buy a smart speaker, but that's not stopping them from spending a lot of time with voice technology.