Demographics
---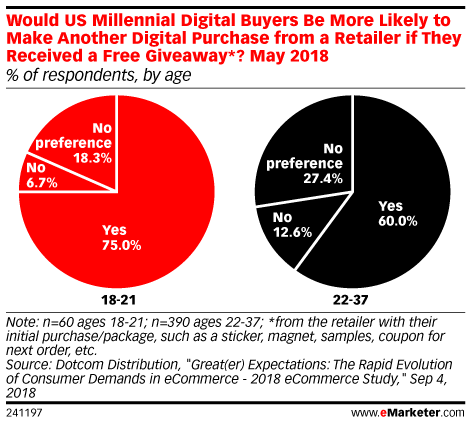 According to a May 2018 survey from Dotcom Distribution, something as small as a free sticker can leave an impression—and not only make them more likely to make future purchases, but to also recommend that brand to others.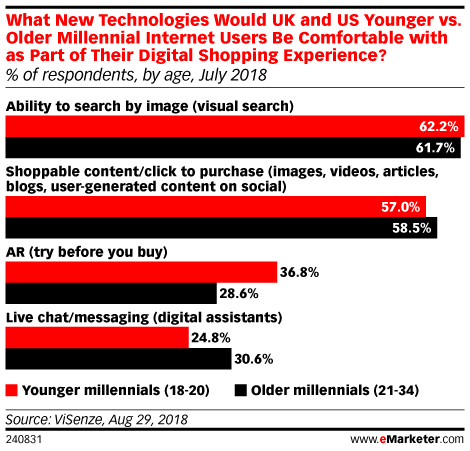 A survey of US and UK millennials found that—surprise—many would be comfortable using a variety of new technologies while shopping.
In the latest episode of "Behind the Numbers," eMarketer's Mark Dolliver discusses how teens indulge in too much screen time, and the extent to which they and their parents see this excessive usage as a problem.
For many back-to-school shoppers, finding quality items is important, as is spending as little time as possible in the store. But nothing beats a good deal.
Older teens and young adults aren't as reliant on mobile as you might think. They use smartphones to browse, compare and research, but they aren't avid users of transactional mcommerce.
Nowhere is the shift from offline to online booking more pronounced than in China. Digital travel sales in the region will total $133.90 billion in 2018, a 20.5% increase over 2017.
We let the eMarketer interns take over the studio for a day so they could explain their digital behaviors to the world. Are these younger folks using Facebook the way they used to? What do they use each of the social media platforms for? What do they think about digital advertising? How do their spending habits vary?
Millennials have been the focus of advertisers, retailers and media for over a decade. Marketers are recognizing this massive shift, but not all are capable of meeting the expectations of younger consumers.
Although their children are digital natives, many US parents worry their kids are too enthralled by device screens. But the remedies have downsides, too.
Snap Inc.'s share price stumbled Wednesday after the company disclosed user growth that failed to meet Wall Street expectations. But that reaction obscures gains for Snapchat's programmatic advertising platforms.