Demographics
---
This year, 23.8 million US millennials will have used a wearable device at least once per month. That's roughly a third of the millennial population, according to our estimates.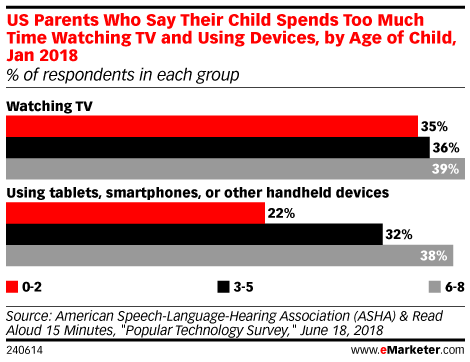 In the latest episode of "Behind the Numbers," eMarketer's demographics specialists, Mark Dolliver and Jennifer Pearson, consider the latest data about children's screen time. How much time are kids spending in front of screens, and what does it mean for their health and well-being?
Due to the growing number of channels available and younger consumers reaching adulthood, expectations for customer service have been changing.
As baby boomers age and the 65-plus population expands, the need for healthcare services will increase rapidly. Heidi Culbertson, CEO of Marvee—a tech company that builds Alexa skills for aging adults—is among a group of healthcare providers and entrepreneurs betting that voice assistants can fill this need.
Just like their younger cohorts, Gen Xers are shifting their viewing habits from traditional TV to digital video.
While kids are not likely to own a smartphone or have a large social media presence, video dominates their digital activity.
As digital marketing becomes more automated, marketers are allocating more of their budgets to marketing technology. Research indicates CMOs spend about 30% of their budgets on tech products.
In the latest episode of "Behind the Numbers," we dig into a new study about YouTube usage. What kinds of content are users consuming, and what drives additional views?
Buying store brands used to be viewed as sacrificing quality for price, but post-recession private labels began flourishing and have gained popularity with retailers and consumers over the past decade.
This year, 8.2 million baby boomers in the US will use a smart speaker. That's a 28.6% increase from 2017, according to eMarketer estimates.