Demographics
---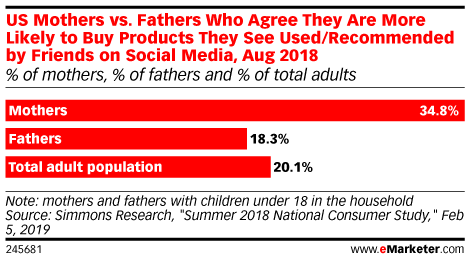 According to a survey from Simmons Research completed in August 2018, an average of 27.4% of parents said they were more likely to buy products they see used or recommended by friends on social sites. This is higher than one-fifth of total adult respondents who said the same.
Although overall tablet usage will slow to just 2% growth this year, growth among seniors will reach almost 6%, according to our estimates. In today's "eMarketer Daily Forecast," forecasting director Shelleen Shum looks at tablet usage among seniors. Tune In.
This year, we forecast that 55.4 million millennials ages 23 to 38 will use digital banking. But, they're not all fans of digital-only banking.
Millennials' propensity for digital usage carries over to their shopping. And it exposes them to plenty of digital advertising, about which they have mixed feelings—especially since online reviews are an appealing alternative source of information.
Corporate social responsibility appeals to millennials—a generation of researchers who value authenticity, transparency and reliability.
Millennials have been credited with upending entire industries, and retail is no exception. Here's what retailers need to know about attracting and retaining consumers from a maturing generation of digital shoppers.
Gen Xers' wearable usage is rising, albeit slower than it has in past years. By the end of 2018, 15.4 million Gen Xers will have used a wearable device at least once per month, up from 14.0 million in 2017.
This year, 23.8 million US millennials will have used a wearable device at least once per month. That's roughly a third of the millennial population, according to our estimates.
Adoption of wearables among teens is low. Just one in 10 internet users ages 12 to 17 will use a wearable device in 2018.
If you're still looking for a holiday gift for a parent or grandparent, a wearable device could be well-received. Americans 55 and older are the fastest-growing group of electronic wearable users in the US, according to eMarketer's latest wearables forecast, largely due to the devices' enhanced health features.